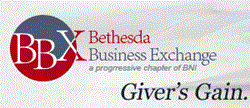 One unique characteristic of BNI is that each local networking group is comprised of businesses from non-competing industries.
Bethesda, Maryland (PRWEB) December 30, 2013
BNI was developed by its founder, Ivan Misner, with the expressed purpose of developing business relationships and passing job referrals to member organizations. One unique characteristic of BNI is that each local networking group is comprised of businesses from non-competing industries. For example, there is only one web designer, one residential Realtor and one title & settlement company in the Pooks Hill Marriott group in Bethesda, MD. This unique structure minimizes competition within the group and fosters natural partnerships among member organizations.
The BNI group that Loebig Ink joined is called the Bethesda Business Exchange and meets every Wednesday morning at the Agio Restaurant at 5151 Pooks Hill Rd. in Bethesda, MD. Founding members of the group include:

The BNI Bethesda Business Exchange is considered a "platinum" group since members have passed more than 1 million dollars in business referrals to each other annually. Loebig Ink has also experienced early gains including a referral to Make It Count Marketing by chapter president, Douglas Hill of RightsAssist, which has resulted in strategic partnerships with Make It Count Marketing as well as RWS Consulting. Jett Training, LLC, a "Best of Bethesda" award winner and BNI member organization, has also engaged Loebig Ink to help develop a comprehensive Internet marketing strategy for the new year.
Participating organizations in the BNI Bethesda Business Exchange include:
RightsAssist, LLC
M&T Bank
Morgan Stanley
Caldwell & Company
Big Moon Little Stars
Bethesda Sunoco
Print 1 Printing and Copying
InnterLift Organizing, LLC
Jett Training, LLC
Ezpeezy Advertising
J. Hilburn Custom Clothing
KJD Architects, LLC
Small Bernal, Inc.
Law Office of Anthony Carducci
Loebig Ink Web Consulting
Edge Floral Event Designers
Everbank
Apex Companies, LLC
Washington Fine Properties
Got Your Back Chiropractic
Metropolitan Moving & Storage, LLC
Geiger Promotional Products
Meridian Homes, Inc.
Settlement Ink, Inc.
KIS Financial Services
Endless Coffee and Endless Water
Horenberg Insurance Services, Inc.
AMR Commercial, LLC
American Office
Established in 1999 as a web design services business in Philadelphia, PA, Loebig Ink, now located in the Northern Virginia/Maryland/Washington, D.C. area, is a small business consulting firm specializing in Internet business solutions. Services at Loebig Ink include Web Design, Search Engine Optimization, Social Media Marketing, and Online Advertising. Owner and award winning technology blog author, Brian Loebig, has over 15 years of experience working in the fields of technology and quality improvement.