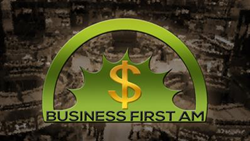 "Business First AM is exactly the type of show we built SBTV for," said Jack Perry, founder and CEO of Syncbak.
NEW YORK (PRWEB) September 19, 2018
Business First AM airs Monday through Friday mornings in 86 markets. Those markets will continue airing the show and in markets where the show is not yet carried, a national version will be made available live- and on-demand using Syncbak's dynamic ad insertion technology called AdSync.
"OTT is a complex opportunity," said Angela Miles, creator and host of Business First AM. "Business First AM is on a mission to give everyday Americans an edge in investing, starting up businesses and paying down debt. The show has risen rapidly from it's launch in fall of 2015 with 17 TV markets to clearance in 86 markets in fall of 2018. Through our deal with Syncbak, we now clear 134 markets which allows me to enable the stations where we don't currently air to start building an audience via SBTV."
"Business First AM is exactly the type of show we built SBTV for," said Jack Perry, founder and CEO of Syncbak. "Now viewers can catch the show on all platforms, regardless of the market they're in. We're pretty certain carriage on SBTV will ultimately lead to traditional syndication deals in all 210 DMAs."
Business First AM can be viewed anytime, anywhere on any device at http://www.sbtv.com.
About Syncbak
Syncbak is the leader in OTT solutions, powering more than 10 million hours of live local broadcasts on OTT destinations like CBS All Access, Hulu, fuboTV, Sony, Amazon, the NFL, and more. Syncbak's end-to-end platform, SimpleSync, is used by broadcasters for live-stream transcoding, cloud-based rights resolution, cloud-based DVR, device filtering, geo-location services, content management, stream monitoring, video clipping and dynamic ad insertion. Syncbak's technology currently reaches 99 percent of the US population across 208 markets, representing 99 station groups and all major networks, including CBS, ABC, FOX, NBC, and the CW.
Syncbak recently expanded its platform with the launch of SBTV. SBTV leverages Syncbak's industry-leading live stream platform, SimpleSync, and its proprietary live DAI technology, AdSync, to deliver free, hyper-local content to viewers anytime, anywhere. The company was founded in 2009 and has offices in Cedar Rapids, IA and New York, NY.