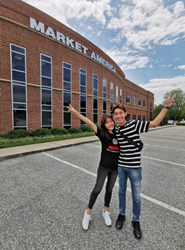 "... I posted an Instagram story about my Isotonix® cocktails that I drink in the morning. Just like that, I got a customer buying from my online shop. I realized that my earnings from selling these products came faster than my own lash and brow business, and you can earn while you sleep." Amy Koo
GREENSBORO, N.C. (PRWEB) June 30, 2020
Business owner – a title many people deem as unattainable, but it doesn't have to be. With technology evolving faster than any other industry on the planet, owning your own online business is becoming more and more attainable with the ability to work wherever you have an internet connection. With so much offered at the click of a mouse, there seems to be no limit in today's media-driven world. Of course, building an online business may not be for everyone. For some, however, it can be a game changer.
Meet Amy Koo. Amy is a professional lash and brow artist from Malaysia who started her online business with Market America | SHOP.COM. Market America is a global product brokerage and internet marketing company that specializes in one-to-one marketing and has locations in eight countries, including the U.S. and Malaysia. The company refers to its thousands of global online business owners, just like Amy, as UnFranchise® Owners (UFOs). The name UFO is used because, unlike franchise owners who have a physical building or office space to grow their businesses, UFOs do most of their business building online. As an UnFranchise Owner, there are no franchise fees, no monthly overhead, no territorial restrictions and minimal startup expenses with the ability to work part-time with flexible hours. SHOP.COM is the company's primary and global award-winning e-commerce site that UFOs use to sell products and services to their customers.
"I started my UnFranchise Business because I love Market America products. At the beginning, I just wanted to purchase products at a cheaper price for personal use. Then, I posted an Instagram story about my Isotonix® cocktails that I drink in the morning. Just like that, I got a customer buying from my online shop. I realized that my earnings from selling these products came faster than my own lash and brow business, and you can earn while you sleep. After that, my family and friends, who also loved the products, wanted to earn some extra income. We partnered up and I earned my first commission three months later," said Amy.
Amy is one of many successful online business owners whose sole job is to support and promote products she loves. Basically, she could be considered an "influencer." In today's society, we are bombarded with what we call "influencer" content. From traditional media such as TV, radio and print to the various social media platforms that include Instagram, Facebook, Snapchat, TikTok and more, content from thousands of influencers is accessible daily. It's become easier for anyone to grow their platform, offering us endless posts by influencers advertising products. With so much content vying for customer's attention, this presents the challenge for content to be genuine, relevant and interesting enough to have viewers not only see your posts but make a purchase because of them. One word: "edutainment."
Edutainment is where education meets entertainment. Influencers and those promoting products often use different tactics in their promotions. Many influencers may post pictures of them holding the product(s) with a caption that lists the product(s) by name but they may or may not know anything about the product or have even tried the very product they are promoting. Lots of influencer videos show products while a top trending tune plays in the background. Others will go the extra mile, or in Amy's case miles, to show followers their level of trust and dedication to the product.
Amy is a great example of someone who is genuinely dedicated to her products and believes in the benefits — so much so that she shows how she benefits from them herself. But she doesn't stop there! While it's imperative to be genuine when using social media to promote products and services, what Amy displays on every post is the importance of emotional connection and relatability that any and every salesperson and business owner should have. This connection is apparent between not only her and her followers but also between Amy and her products.
Her platform is a great example of edutainment in which she strives to come up with new and fun ways to promote these products, as well as educate her audience on the importance each product holds within her day-to-day life. From nutrition to makeup, skincare and more, Amy is a product of her products, both day and night. You might say it's her key to success; and with recent global events, to her, it's everyday life.
Check out a few of Amy's recent Instagram posts to see how she uses edutainment to step up her business-building game.
1. Promoting weight management
2. Promoting health, skincare & beauty
3. Promoting health & skincare routine
4. Promoting becoming an online business owner
As one can imagine, becoming a successful e-commerce business owner is not an easy road, especially today. Amy has had to adapt and find other ways to keep herself invested in building her UnFranchise Business. For example, she participates in daily Zoom trainings, some of which the Founder, Chairman & CEO of Market America, JR Ridinger, conducts himself. Amy and her husband, Yeubert have traveled more than 30 hours to visit Miami, Florida, where the company holds its annual World Conference, so that she could participate in a multitude of workshops and training sessions and speak one-on-one with other UFOs. She also spends a good bit of time thinking about unique ways she can promote the products she loves on her social media channels. To get a taste of what it's like a day in the life of a successful e-commerce business owner, check out this video of Amy's daily routine. In times like these, it can be easy to feel discouraged, but don't let that put out your spark. Check out how you can own your own SHOP.COM site and see if becoming an e-commerce business owner makes sense for you as it has for Amy.