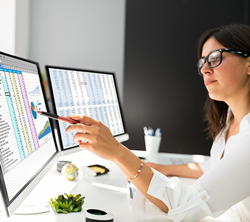 By visually representing data activities and relationships, business process modeling emerges as an effective tool for enhancing data governance practice.
HOBOKEN, N.J. (PRWEB) December 10, 2020
Messaging Architects, an eMazzanti Technologies Company and information governance consultant, discusses how business process modeling communicates policy, helps leaders understand data, and enhances data governance in a new article on the Messaging Architects website.
The informative article also answers the question, "What is business process modeling?" The author concludes by encouraging readers to consult data experts to build an effective data governance program.
"By visually representing data activities and relationships, business process modeling emerges as an effective tool for enhancing data governance practice," stated Greg Smith, Vice President of Services Delivery at Messaging Architects.
Below are a few excerpts from the article, "Business Process Modeling Used to Enhance Data Governance."
Business Process Modeling Communicates Policy
"The growing number of industry regulatory standards that influence data governance means that more companies have to deal with compliance. Developing business process models for data governance policies helps to document new policies and effectively communicate them throughout the organization."
Understand Data and Optimize Resources
"Data governance process models show data stores used in the archiving process, what is archived when and how long data is retained. Thus, showing processes involving data that is not usually backed up helps to prevent data loss."
Business Process Modeling to Enhance Data Governance
"By clearly showing process flows, data paths and organizational hierarchies, business process modeling helps to identity practices prone to security, compliance or other risks so audits and controls can be designed to mitigate exposures."
What is Business Process Modeling?
"As a tool used to document, analyze, automate, and improve operations, business process modeling visually represents a company's business processes, workflows, and data flows. It employs various graphing methods, such as flowcharts and data flow diagrams."
Data Expertise on Demand
To build an successful data governance program, business leaders count on the data experts at Messaging Architects. They anticipate the obstacles and employ the correct technologies to streamline the ongoing effort to achieve compliance and maximize data value.
As the role of data governance expands, Messaging Architects employs decades of data governance experience to help organizations optimize their efforts.
Have you read?
Data Literacy Drives Corporate Strategy and Marketing Success
Democratization of Data Drives Modern Business Opportunity and Success
About Messaging Architects
Messaging Architects specializes in effectively managing and securing an organization's most precious asset, its information. With over 20 years of information management and technology consulting experience, the Messaging Architects team has provided corporations, educational intuitions, health care facilities and nonprofits with methodologies, procedures and technology to keep their data organized, compliant and secure.
About eMazzanti Technologies
eMazzanti's team of trained, certified IT experts rapidly deliver increased revenue growth, data security and productivity for clients ranging from law firms to high-end global retailers, expertly providing advanced retail and payment technology, digital marketing services, cloud and mobile solutions, multi-site implementations, 24×7 outsourced network management, remote monitoring and support.
eMazzanti has made the Inc. 5000 list 9X, is a 4X Microsoft Partner of the Year, the #1 ranked NYC area MSP, NJ Business of the Year and 5X WatchGuard Partner of the Year! Contact: 1-866-362-9926, info@emazzanti.net or http://www.emazzanti.net Twitter: @emazzanti Facebook: Facebook.com/emazzantitechnologies.