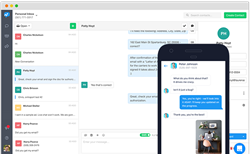 We were calling, but no one was picking up. We were sending emails yet getting minimal replies. But like magic, when we sent text messages, we got instant responses, booked more meetings, and made sales faster!" - Chris Brisson CEO
DELRAY BEACH, Fla. (PRWEB) March 05, 2021
Salesmsg, a Delray Beach-based tech business texting startup, was honored as one of fifty top Florida Companies to Watch in 2020. Salesmsg, founded by Florida native and entrepreneur Chris Brisson, earned the distinguished award after just three years in business.
The statewide competition garnered nearly 500 entries from across the state of Florida. Entrants were measured based on a stringent requirements including innovation, performance, and community involvement. Founders and entrepreneurs were assessed based on their leadership, philanthropy, and perseverance.
GrowFL, the award foundation, has been recognizing high-impact companies like Salesmsg for ten years. Dr. Tom O'Neal, GrowFL founder explains "These stand-out companies are all led by entrepreneurs, and have demonstrated not only their willingness to grow, but their capacity to do it successfully."
Serial entrepreneur and CEO of Salesmsg Chris Brisson is no stranger to the concept of "do it successfully", having bootstrapped more than one SMS based startup. He explained the genesis of Salesmsg as a pivot towards what his other start up CallLoop didn't provide: two way business texting.
Chris Brisson explained, "We were calling, but no one was picking up. We were sending emails yet getting minimal replies. But like magic, when we sent text messages, we got instant responses, booked more meetings, and made sales faster!"
Salesmsg solves this modern problem by giving companies and teams a texting solution designed to overcome declining email open rates, non-existent voicemail call backs, and consumer demand for SMS engagement.
Business texting has been around for years, but many businesses did not recognize its importance to customers or lacked the technical knowledge to implement it. To support the needs of business texting community, Salesmsg innovated texting for landline numbers, shared team SMS inboxes, integrations for popular CRMs like HubSpot and hundreds more using Zapier. In addition, Salesmsg offers a public SMS API, a Chrome browser extension, and mobile apps for iOS and Android.
"We're grateful. We're honored. And receiving this award is a sign Salesmsg is on the right track," Brisson remarked. "And even with increased regulation of A2P 10 DLC by the industry's main mobile carriers, we are ready to stay ahead of the curve and hopefully win a 'Florida Companies to Watch 2021' award too."
About Salesmsg
Founded on the belief that "conversations are good for business" Salesmsg recognized the response rate of email, phone calls, and voicemail decline, while text messaging increased. It became clear based on how leads and customers wanted to communicate; sales, marketing, and support professionals needed SMS as the better way to connect. Since 2017 Salesmsg has supported these professionals through the development of CRM integrations with HubSpot, ActiveCampaign, Infusionsoft, Pipedrive and new features that improve lead conversion and sales, decrease appointment no-shows, and the eliminate technical complexity and management of managing multiple platforms. Free 14 day trial available to new customers.
About GrowFL
GrowFL Florida Companies to Watch celebrates growing second-stage companies headquartered in Florida. Companies to Watch was developed by the Edward Lowe Foundation as a unique way to recognize and honor second-stage companies that demonstrate high performance in the marketplace with innovative strategies and processes, making them "worth watching."