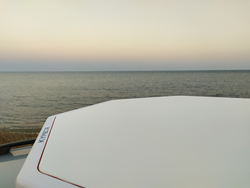 Kymeta offers a field-proven flat panel antenna that allows us to deliver our mission critical high-throughput satellite services to mobile remotes and enable our customers to connect their assets in motion, on land, and at sea.
LONDON (PRWEB) October 29, 2020
Today, BusinessCom Networks, a leading broadband satellite telecommunications service provider, and Kymeta, the communications company that is making mobile global, announced a distribution agreement. The agreement allows BusinessCom to deliver on-the-move satellite telecommunications solutions leveraging Kymeta's innovative flat panel terminals to enterprise, government, and defense customers worldwide.
"Kymeta offers a field-proven flat panel antenna that allows us to deliver our mission critical high-throughput satellite services to mobile remotes and enable our customers to connect their assets in motion, on land, and at sea," said Maxim Usatov, BusinessCom Founder and CTO. "Kymeta was the first to deliver an electronically steered metamaterial antenna to commercial markets. We are excited to leverage this innovative technology and offer a solution that provides broadband IP connectivity and seamless integration with our existing satellite networks."
BusinessCom's on-the-move service provides dedicated bandwidth, unlimited data volumes, and network availability, guaranteed via a service level agreement. The service is optimized to support applications involving intensive data transfers and high-definition voice and video streaming while on the move. BusinessCom's service can be provisioned either as a link to the internet or as a secured private network with a terrestrial backhaul extension to the client's headquarters. Kymeta terminals are power-efficient, low-profile, lightweight, and feature no mechanical components, which makes them ideal for deployment in harsh environments. "Assets in motion, being connected to the same satellite hub as other VSAT remotes, can now securely "talk" to headquarters, fixed and on-the-pause remotes, all sharing the same network topology," said Usatov. The solution can be rapidly provisioned on practically any existing land vehicle or sea vessel.
"Adding Kymeta technology enhances BusinessCom's existing offerings and brings a robust mobility solution to their customers. We are pleased to support them in their growth across Europe, the Middle East, and Africa," said Rash Jhanjee, Kymeta Vice President of Sales, EMEA.
BusinessCom is excited to deliver this unique flat panel solution to its clients, as it allows us to satisfy the increasing demand for mobile broadband connectivity and position the company to deliver services on upcoming non-geostationary satellite constellations.
About BusinessCom
BusinessCom, founded in 2003, is a global telecommunications service provider operating on a fleet of 14 geostationary satellites, with primary customers being enterprise, government, defense and energy users, Internet service providers and mobile network operators. With over 1,000 networks now deployed worldwide, BusinessCom's services range from satellite broadband Internet connectivity to IP transit and private networks. The company also specializes on terrestrial backhaul services, SD-WAN, and bandwidth management and optimization solutions. BusinessCom provides cost-effective connectivity globally for fixed locations and mobile assets on a turn-key basis.
For more information, visit bcsatellite.net.
Media Contact
Matt Zitron
BusinessCom Networks
+44 7740 628 723
matt.zitron@bcsatellite.net
About Kymeta
Kymeta is unlocking the potential of broadband satellite connectivity, combined with cellular networks, to satisfy the overwhelming demand for comms on the move and making mobile global. Lepton Global Solutions, a Kymeta company, hosts the company's satellite connectivity solutions and offers unique, complete, and turnkey bundled solutions to the market based on best in class technologies and tailored customer-centric services that meet and exceed customer mission requirements. These solutions in tandem with the company's flat-panel satellite antenna, the first of its kind, and Kymeta Connect™ services provide revolutionary mobile connectivity on satellite and hybrid satellite-cellular networks to customers around the world. Backed by U.S. and international patents and licenses, the Kymeta terminal addresses the need for lightweight, slim, and high-throughput communication systems that do not require mechanical components to steer toward a satellite. Kymeta makes connecting easy for any vehicle, vessel, or fixed platform. Kymeta is a privately held company based in Redmond, Washington.
For more information, visit kymetacorp.com.