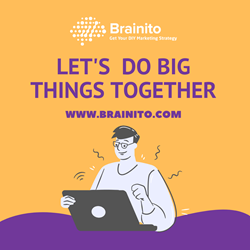 Digital Marketing is not a rocket science, One can build successful online businesses with well defined marketing strategy and guidance
LAS VEGAS (PRWEB) May 19, 2020
Brainito, an exciting collective of entrepreneurs who deliver winning marketing solutions to businesses across the globe, recently opened its virtual doors for business. The solution-driven firm's mission is to arm businesses with the tools needed to help them see prolific marketing results by solving customers' biggest problems. Brainito's suite of services and resources provide businesses of all sizes information, tips, and resources on how to leverage the DIY economy to not only save money on marketing efforts but also yield mind-blowing results.
Brainito was created after its founders recognized the frustrations many business owners face when confronted with making decisions about their marketing strategies. Many business owners will look for the cheapest, easiest, and quickest solutions, quickly draining their marketing budgets with little to no return on investment. Brainito is on a mission to change that.
The Brainito teams believe that businesses can be successful by developing and managing their own marketing strategic plans—but they must be executed correctly. With that in mind, Brainito created their brand to empower businesses with marketing tools and strategies to build a successful marketing roadmap that understands and engages customers and converts prospects into brand loyalists.
Utilizing data-driven and researched-back strategies, the Brainito team works closely with its partners to develop DIY marketing plans tailored to their specific needs and customer base. By teaching companies to employ high-return strategies such as understanding their real-time market, performing a detailed website audit, maximizing their social media calendars, setting a realistic and detailed budget, and more, Brainito's marketing experts show businesses how they, in turn, can become marketing experts in their respective businesses.
Though the company recently launched, Brainito's early clients are seeing big results. Customer feedback has shown that after receiving guidance from Brainito's marketing team to craft a DIY marketing roadmap, 98% of their clients feel confident in their marketing abilities and are immediately able to put their plans into action.
"There's a lot of wasted time, energy, and money in the marketing world, and our mission at Brainito is to put an end to it," said Nidhi Mevada (Founder, Brainito). "Especially with the worldwide economy in recession due to the COVID pandemic, businesses of all sizes have less money to spend on all
marketing strategies and efforts, let alone ones that don't have a solid return on investment. Our goal is to help alleviate the budget burdens associated with expensive marketing campaigns that don't work by arming our clients with proven strategies that get them the attention they deserve and deliver big results that boost their bottom lines."
Brainito offers a number of packages to those looking to develop their DIY marketing roadmaps. They also offer a free package that delivers basis marketing strategy tools to help businesses get off on the right foot with implementing key elements of a successful plan.
To learn more about Brainito, visit https://www.brainito.com.