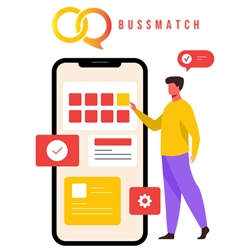 Virtual events was nice to have before COVID-19 but it's essential now, yet many companies are still hesitating to add another system to their technology stack
WASHINGTON (PRWEB) September 02, 2020
In response to current remote working conditions, and in order to further support the needs brought forth by digital events, Bussmatch offers a virtual events management solution combined with matchmaking capabilities set to bring digital events to the next level.
Bussmatch's easy to deploy live and recorded-on-demand keynote features save time and effort for event organizers, speakers and attendees alike. In addition, their tried and tested matchmaking software offers the possibility of connecting with attendees with matching interest, thus boosting the effectiveness of their participation for all attendees. These "matches" then enable attendees to set up one on one meetings to explore business possibilities, mimicking the networking experience of a real event while also saving the time otherwise spent initiating fruitless conversations in a search for potential clients or vendors.
"Virtual events were nice to have before COVID-19 but they are essential now, yet many companies are still hesitating to add another system to their technology stack," said Fernando Polti, Co-Founder of Bussmatch & CEO of Global Wizards. "Our goal is to remove the technology barrier with a seamless software that not only facilitates the creation of high impact conferences, but also brings one of the most sought after aspects of in-person events, the networking possibilities, through an AI-powered matchmaking solution."
From adding a new dimension to events management through cutting edge networking capabilities, to replacing obsolete schedules with interactive agendas that allow attendees to organize their own event, to facilitating the implementation of companies' entire events workflow, Bussmatch's new virtual events management solution sets to offer an engaging virtual experience for all stakeholders.
"Aside from today's need to develop high-value virtual events, we believe that this will kick start a new era in the events world," Polti concluded. "We're providing the tools to plan, develop and organize events in a way that takes into account one of the main reasons people choose to attend events in the first place: the networking opportunities. Once that is on the table, companies have an amazing chance to boost attendance and engagement. It's a game changer."