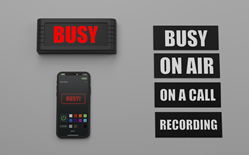 "The video is gaining traction and we're thrilled to be a part of it," said BusyBox Sign co-founder Steve Skillings. "Riley is truly hilarious and life is serious enough, so we love to see our product's many uses in households, including in brilliant satire such as this!"
WHITINSVILLE, Mass. (PRWEB) November 01, 2022
BusyBox Sign, makers of the first wireless smart status signs, have found themselves going viral with influencer Riley Lemon, who's taken a humorous jab at his parents on social platforms with the video "My Parents Sneak Into Their Bedroom For 2 Minutes Everyday & I Finally Figured Out Why." The video currently has 2.5 million views on TikTok and 8.8 million on YouTube Shorts.
Set to the music of "Love Grows (Where My Rosemary Goes" by Edison Lighthouse, Lemon's retired parents use a BusyBox Sign to note why they need privacy in their bedroom. They put different signs in the box to prevent Lemon from interrupting them, from "busy" to "meeting" and "studying." The video culminates with a suspicious Lemon checking on them only to find his innocent parents actually reading and studying.
"Any adult child living with their parents can relate to this funny scenario," said BusyBox Sign co-founder Steve Skillings. "The video is gaining traction and we're thrilled to be a part of it. Riley is truly hilarious with his comical gestures and his parents are totally in on the deception. Life is serious enough, so we love to see our product's many uses in households, including in brilliant satire such as this!"
Skillings was like many who were frustrated with productivity and constant interruptions while working from home during the early days of the pandemic. He played in a band and liked the idea of "on-air" signs and thought the concept could be adapted to help his work/home situation. Using his engineering skills and a 3D printer, Skillings created a prototype in three days, then reached out to his software engineer friend to make it "smart."
After a successful crowdsourcing campaign, the result is wireless signs intelligently designed to improve home, office or classroom workspaces. Two models are currently offered, including one with a digital screen to craft a message with plenty of room for creativity, and multiple accessories, too.
For more information, visit http://www.busyboxsign.com. Available on Amazon, too!
###
About BusyBoxSign:
The BusyBox wireless status sign allows you to create a space inside your home to think, produce or work, designed intentionally to minimize interruptions. It's never been easier to make an interruption-free zone inside your four walls.