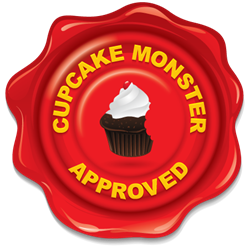 Some super good cupcakes! The mini ones are the best for me. The cake part is moist, delicious, and always makes me feel goood! The frosting is remarkable with a piece of fruit on top! My kids love Buttercup Cakes cupcakes! - Jane R., Santa Cruz, CA
Santa Cruz, CA (PRWEB) May 31, 2014
The Santa Cruz, CA cupcake shop, Buttercup Cakes and Farmhouse Frosting, is a bakery that has been around for four generations providing superb cakes and cupcakes to the local Santa Cruz area. The initial goal of the bakery store was to "raise the standards of cake expectations." The fact of the matter is that Buttercup Cakes has long been regarded as top bake shop for good cupcakes, including awesome gluten-free and vegan cupcakes. After the launch at their Locust Ave. store, the shop has been making strides with new and innovative flavors and healthy treats.
Buttercup Cakes and Farm House Frosting is Cupcake Monster Approved! This prestigious award is based on taste, customer service, user generated reviews, and store appearance. First, the desserts here are absolutely delicious. The flavors evaluated were the mocha, coconut vanilla, raspberry red velvet, strawberry cream, and chocolate chocolate. A personal favorite is the chocolate chocolate cupcakes. The cake is perfectly moist yet fluffy. The chocolate frosting is rich, sweet, and creamy. Overall, this place is one of the best Santa Cruz cupcake shops. The staff is welcoming with a smile. They always know the flavors and can answer questions about ingredients and/or preparation. Finally, the store is a small shop with a vintage appeal. Two seats and a table set out front makes enjoying cupcakes on the premises during a beautiful day a breeze. The Cupcake Monster Approved sticker and the Review Us on CupcakeMaps.com is displayed on the front door.
As cupcake lovers dessert desires grow, there is a continuous need for delicious cupcakes and desserts in Downtown Santa Cruz. Cupcake lovers can access the wide variety of delicious Buttercup flavors. Buttercup Cakes assortment of specialty cakes, cupcakes, and desserts are made from scratch daily using quality ingredients like fresh cream frosting, fudge puddle frosting, fresh raspberries, and vegan and gluten free cakes.
Cupcake / cake bakery shops can apply to be reviewed for distinguished Cupcake Monster Approved stickers by contacting the Cupcake Monster at CupcakeMonster(at)CupcakeMaps(dot)com. The evaluation process involves a thorough evaluation of your cupcakes, cakes, and/or cookies; a review of your shop or online store; and your overall customer service.
Buttercup Cakes Farmhouse Frosting Santa Cruz
109 Locust Street
Santa Cruz, CA 95060
(831) 466-0373
Website: http://www.farmhousefrosting.com/
Facebook: Buttercup Cakes Farm House Frosting Company
Hours: Mon - Thurs: 10:00 a.m. - 5:30ish
Friday, Sat & Sun: 10:00 a.m. - 9:00 p.m.
Closed Thanksgiving and Christmas Day.
About Cupcake Monster Maps - CupcakeMaps.com
The developers of CupcakeMaps.com is a small, cupcake-loving, Santa Cruz-based technology company that creates data and directory driven websites along with user-friendly apps that create buzz for local small and national chain desserts businesses. The company specializes in cupcake bakery marketing, mobile web apps, SEO (search engine optimization), and web development. CupcakeMaps works with over 5,000 dessert shops throughout the United States, and is expanding worldwide this year. Santa Cruz, Capitola, Scotts Valley, and San Jose bakery shops on CupcakeMaps benefit from a business standpoint. Santa Cruz cupcakes shops can effectively market their desserts shops to consumers by submitting or claiming their business on the website and having their contact information, phone numbers, websites, and directions to the business at sweets lovers' immediate disposal. Additionally, bakery businesses can connect their Facebook and Twitter accounts. All reviews and customer check-ins are prominently displayed on each businesses directory page. Each business gets an automatic dedicated reviews page. More importantly, Santa Cruz bakeries can add check-in offers and get cupcake marketing on the free mobile iPhone and Android apps. Shops owners can develop their very own mobile web apps that significantly drive business. Owners also promote with the 'Review Us on CupcakeMaps.com' sticker. When a shops gets 50 4+ reviews, they receive a 'People Love Our Sweets on CupcakeMaps.com' sticker, and they can get reviewed by the Cupcake Monster and get a 'Cupcake Monster Approved' sticker. With the announcing of these well-known, wildly popular, and seriously delicious Santa Cruz CA cupcake bakeries to the CupcakeMaps family, the company is only further solidifying its status as a true leader in the cupcakes n cakes industry.