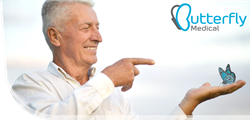 We don't believe in a one-size fits all approach to BPH treatment. We believe we've developed a simpler, safer device to complement existing therapies and offer a less invasive alternative to patients.
YOKNEAM, Israel (PRWEB) October 06, 2020
Israeli medical device company, Butterfly Medical Ltd., has raised $7 million in a Series B financing led by Philadelphia-based New Rhein Healthcare Investors. Butterfly Medical successfully completed the enrollment of 49 patient to its multi-center clinical study testing the company's novel implantable device in patients suffering from benign prostatic hyperplasia (BPH) or an enlarged prostate. Follow up results to date are positive and support initiating a pivotal registration study. The Series B round was raised on the back of encouraging Feasibility Stage (initial safety and efficacy) data. Butterfly Medical will apply the proceeds, $5 million of which was invested by New Rhein funds and $2 million of which was invested by the company's existing stockholders, to fund its pivotal US clinical trial and open US headquarters.
BPH affects half of all men between the ages of 51 and 60, and up to 90% of men who are 80 or more years old. It occurs when a non-cancerous enlargement of the prostate gland encroaches on the urinary tract, increasing urethral resistance and obstructing the bladder. Symptoms include frequent need to urinate, especially through the night, and pain, among others.
Medications are the first line of treatment for BPH and, while helpful, they can affect male sexual function, may not eliminate symptoms, and frequently lose their benefit over time. Transurethral resection of the prostate (TURP) has been considered by many urologists to be the gold standard of BPH surgical treatment. While efficacious, TURP's side effects include bleeding, incontinence, and erectile dysfunction. Newer ablative technologies include radiofrequency, laser, and hot steam. However, all these technologies may also result in complications such as pain, bleeding, and/or erectile disfunction.
Given the growing number of older men who live active social lifestyles, the demand for safer procedures is growing. In the US, it is estimated that 12 million men suffering from BPH are delaying treatment, waiting for their symptoms to get worse before undergoing invasive procedures. Butterfly's device offers a minimally invasive solution: a nitinol implant anatomically shaped, and positioned in the prostatic urethra in order to open the space and relieve BPH symptoms. The device comes in multiple sizes to provide 'best-fit' for the individual, and, unlike other more invasive approaches, Butterfly's procedure does not require any resection, cutting, or burning of prostatic tissue. The procedure can be completed in under six minutes in the urologist's office.
In clinical trials to date, the Butterfly device showed a lasting effect on quality of life of patients suffering from BPH symptoms: improvement in IPSS (International Prostate Symptoms Score- symptoms severity questionnaire) was observed as early as 2 weeks after the procedure and ranged from 35% at 1 month to 42% improvement for the 17 patients who already completed 12 months.
Idan Geva, CEO of Butterfly Medical, said, "We don't believe in a one-size fits all approach to BPH treatment. We believe we've developed a simpler, safer device to complement existing therapies and offer a less invasive alternative to patients." Mr. Geva added, "With this financing, and our new partnership with the New Rhein team, we can accelerate our US clinical trials and initiate commercialization in a market eager for simple and safe solutions for this medical condition."
Initial institutional support and funding for Butterfly was provided by Alon Medtech Ventures, a leading Israeli medical device venture capital firm. New Rhein Managing Partners, Greg Parekh and Ivan Gergel, will join the Butterfly Board of Directors.
Butterfly Board chairman and Alon Medtech founder, Shimon Eckhouse, added: "Butterfly is an excellent example of an entrepreneurial company that has been able to efficiently develop and clinically test an innovative product to address a gap in medical treatment. New Rhein's complementary support is a positive indication of Butterfly's results and the size of the market. We look forward to collaborating with New Rhein in advancing the programs and building a successful US business."
About Butterfly Medical:
Butterfly Medical was founded in late 2014, as part of the portfolio of Alon Medtech Ventures' incubator, with the goal of developing a non-surgical treatment for men suffering from BPH symptoms. The company was founded by Mr. Yehuda Bachar, a seasoned entrepreneur in the medical device space. The technology developed by the company allows for the procedure to be transferred from the operating room to the clinic, eliminates the need for hospitalization, and significantly shortens recovery time. For more information, see http://www.butterfly-medical.com.
About New Rhein Healthcare Investors:
New Rhein is a venture capital/early growth stage fund manager whose investment strategy focuses on proven molecules used in new ways, such as new delivery forms and potential new uses and indications. In this way, New Rhein limits science-based risk and concentrates on development and execution. Prior investments have included medicines for Alzheimer's disease, ophthalmic disorders, respiratory disease, and molecular oncology diagnostics. New Rhein's partners, associates, and advisors are knowledgeable former industry executives with solid track records of operational, investment, and transactional experience. New Rhein combines significant deal-making expertise with deep operating experience, allowing it to tailor the right deal for the right situation and work with its portfolio companies to achieve maximum value for their products. For more information, see http://www.newrhein.com.