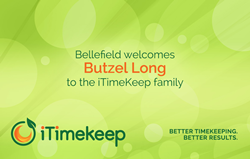 OCG Live is the only solution that enables firms' compliance with client guidelines at the point of time entry
PITTSBURGH (PRWEB) October 10, 2019
Bellefield Systems, the providers of the fastest path to revenue through its time entry solutions, announced Butzel Long has implemented iTimekeep and OCG Live™ by Bellefield as its firm-wide time entry and compliance solution. Based in Detroit, Butzel Long is one of the oldest law firms in Michigan with 155 attorneys located in multiple offices in Detroit as well as New York City, Washington, D.C. and alliance offices in Mexico and China.
Steve Ratliff, Butzel Long's CIO, comments: "At Butzel Long, we strive to price our work competitively, deliver optimal results for our clients, and achieve healthy bottom-line results for our firm. By making time entry simple and accurate, iTimekeep allows us to maintain the integrity of an hour worked, which helps us pass the true value on to our clients."
"The dashboard and reporting capability give us visibility into our time entry throughout the month, and the OCG Live component increases the transparency of billing guidelines, allowing our timekeepers to work and bill more in line with our clients' expectations. We are excited about the implementation of this new technology and have high expectations for the increased efficiency it provides," Ratliff adds.
"More and more clients are not only increasing their needs for efficient and compliant billing, but evaluating firm performance based on these parameters. OCG Live is the only solution that enables firms' compliance with client guidelines at the point of time entry. We are thrilled to be the technology of choice for Butzel Long to deliver enhanced client service through compliant and accurate time entries," said Gabriela Isturiz, President & Co-Founder of Bellefield Systems.
Bellefield continues to innovate on behalf of its global client base to deliver tomorrow's technology today, so that firms can remain profitable and competitive.
About Bellefield Systems & iTimekeep
Bellefield provides the fastest path to revenue by removing barriers to time entry for attorneys and law firms. Through the iTimekeep platform, Bellefield brings better timekeeping to any law firm or professional services firm by increasing attorney engagement, providing real-time compliance with outside counsel guidelines and enabling firms to manage their time entry policies. In an area that was long disregarded and accepted as a "cost of doing business," Bellefield's innovations are bringing about efficiencies that allow firms to achieve the best timecard inventory, leading to less rejections, increased compliance and maximum client satisfaction.
Bellefield was founded with one simple (yet powerful) purpose: create better timekeepers. iTimekeep ranks #1 as the most adopted Mobile (and anywhere) Time Entry solution for attorneys for six consecutive years. Bellefield's founding members include the former founders of eBillingHub (now Thomson Reuters™), Gabriela Isturiz and Daniel Garcia and software veteran, John Kuntz. Bellefield Systems is an independent, privately held company headquartered in Pittsburgh, Pennsylvania. To learn more, visit http://www.bellefield.com.