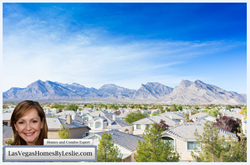 The pendulum is swinging the other way towards recovery
Las Vegas, NV (PRWEB) April 15, 2015
Las Vegas housing market and real estate website Las Vegas Homes By Leslie is reporting the Las Vegas housing market will be favorable towards home buyers for 2015. Leslie Hoke, long-time Las Vegas realtor and administrator of the website reported the news from her popular real estate blog.
"The pendulum is swinging the other way towards recovery, as it always does. With exception to Florida, Las Vegas was hit the hardest during the mortgage crisis. Now that the local market has stabilized and interest rates are still historically low, conditions for buying a home in Las Vegas are excellent for first-time home buyers to stop paying high rent prices in southern Nevada and get into a home," Hoke said.
"Zillow recently published a report naming Las Vegas the 4th best major market in the country for first-time buyers. The average sale price for a home is $204,000, which is very low for a major market. It means people can get into a great family home for cheaper than they would pay for rent," said Hoke.
"And it's not just first-time buyers either. The same conditions apply to boomerang, or bounce back buyers. Those are folks who lost a home during the economic collapse, but are now in the position to buy again," Hoke went on to say.
To learn more about the latest Las Vegas real estate market data and to view Las Vegas real estate listings, visit: http://www.lasvegashomesbyleslie.com/blog/ready-to-buy-a-home-in-las-vegas-good-market-for-bounce-back-buyers.html
About Leslie Hoke
Leslie Hoke is an award-winning Las Vegas Realtor with RE/MAX Premier Realty Group. Leslie has been selling homes in the Las Vegas area for well over a decade after a successful business career with Disney Corporation. Leslie owns and operates the popular Las Vegas real estate website and blog Las Vegas Homes By Leslie.
Ms. Hoke earned RE/MAX's award for 'Top Vegas Realtor" in 2011, 2012, 2013 and 2014 due to her results-oriented approach to helping her clients meet their real estate needs. Ms. Hoke is a member of the Greater Las Vegas Association of Realtors and National Realtor Association. She is a certified short sale specialist, and has expertise in the areas of condominiums and new construction. Leslie is known for her client customer service, savvy marketing strategies, and track record of success. As a long-time Las Vegas resident, Ms. Hoke brings a wealth of knowledge about the Las Vegas real estate market.