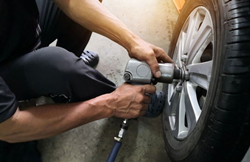 WINDER, Ga. (PRWEB) September 07, 2021
Akins Ford is offering all eligible customers up to a $100 rebate on purchase of select four tires. This offer is available on select brands like Goodyear, Michelin®, and BFGoodrich® at this dealership located in Winder, GA. As mentioned on the dealership website, this offer is available only on dealer-installed retail purchases and can be redeemed once per customer. FordPass™ Rewards members can also earn 10 service points per $1 spent on Ford vehicle service at the dealership.
Customers can get a total of $100 mail-in rebate on the purchase of four new Michelin CrossClimate® 2 and Pilot® family of tires. This is split into two parts- a $70 tire rebate and a $30 service rebate. This service rebate is given in the form of FordPass™ reward points. Alternatively, on the purchase of four new Michelin passenger or light truck tires, customers can get a total of $70 mail-in rebate. Many other similar rebate offers are available on different tire purchases. Interested people should visit their website for more information.
This is just one of the various limited-time rebates and offers available to Akins Ford customers this month. These offers are only valid till September 30, so interested people are encouraged to take advantage of the offers quickly. Additional terms and conditions may apply. Eligible people who are interested in this offer can connect with a dealership representative for more details at 770-867-9136.
Akins Ford has the largest selection of Ford vehicles in the state of Georgia. It is also the second-largest Ford dealer in the entire Southeast. Akins Ford dealership is located in the Atlanta metropolitan area at 220 W. May St. in Winder, GA. The dealership is open Monday through Friday from 8:45 a.m. to 7 p.m. and on Saturday from 8:45 a.m. to 5:30 p.m.