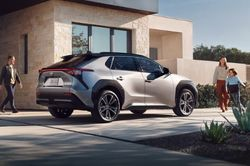 SALINAS, Calif. (PRWEB) January 20, 2023
Electric vehicles are popular among drivers, and this trend will become more significant in the coming years. All vehicle brands with a progressive mindset now have their own EV lineup. Toyota, a pioneer in electric vehicle design language and technology, has a strong EV portfolio. One of its flagship electric vehicles, the bZ4X, is now available in its latest 2023 version. Drivers near Salinas can buy the latest 2023 Toyota bZ4X from the Salinas Toyota dealership. They can find multiple trims of this electric vehicle.
Interested buyers can learn more about the prices of the 2023 Toyota bZ4X via the dealership's website. It has detailed technical specifications of this EV. Those residing near the dealership can visit it and test drive the 2023 bZ4X. This will help them understand how the SUV functions on the road. The electric SUV comes with an all-wheel-drive configuration with an Inductive Technology System transmission, assisting drivers with an extra boost of power when required.
Customers can visit the toyotasalinas.com website to learn about the various Toyota deals and vehicle services available at the Salinas Toyota dealership. For detailed information on the 100% electric 2023 Toyota bZ4X, they can visit the Toyota Salinas dealership located at 700 Auto Center Circle, Salinas, CA 93907. They can contact the dealership by phone at 831-444-0700.