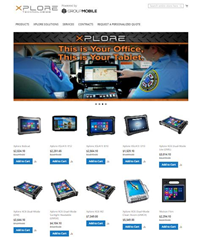 This innovative, easy-to-use microsite shows current and prospective customers a simple way to purchase Xplore products and accessories...
Chandler, Arizona (PRWEB) July 12, 2017
Group Mobile, a rapidly expanding premier provider of innovative, full-service mobile technology solutions today announces the launch of a new microsite dedicated to Xplore Technologies Corp., the only mobile computer manufacturer to engineer industrial rugged tablets specifically for customers in Energy, Utilities, Manufacturing and Distribution, Public Safety, Field Services, Transportation, and Military sectors for more than 20 years. The BuyXplore.com microsite will provide Xplore customers with a faster and more flexible way to shop for Xplore rugged tablets and accessories online. The microsite also offers pages dedicated to vertical market industries that require rugged mobile computing solutions.
"We are very excited and eager to launch the new Xplore microsite. Our team has spent many weeks developing this site not only for our customers' ease of purchase, but as a strategic internal tool for the Xplore sales team," said Darin White, president, Group Mobile. "This innovative, easy-to-use microsite shows current and prospective customers a simple way to purchase Xplore products and accessories, differentiating Group Mobile from competitors by demonstrating our loyalty and trust to Xplore as a strategic partner."
"We are thrilled to kick-off this long-awaited microsite with Group Mobile. This collaborative effort will not only drive Xplore brand recognition as a rugged industry pioneer, but provide customers with a simplified way to purchase devices and accessories. More importantly, it enables us to effectively architect, deploy and optimize the quality, and complete, rugged tablet solutions that our customers need to overcome their greatest business challenges. Customers who purchase Xplore solutions through Group Mobile can be confident they will enjoy the lowest Total Cost of Ownership (TCO) of any mobile solution available on the market today," noted Debbie Russo, director of marketing, Xplore.
Visit BuyXplore.com and take advantage of an exclusive 15% discount on the transformational new Xplore XSLATE R12 fully rugged tablet, the highest performance rugged tablet in the world.
About Group Mobile
Group Mobile, a wholly owned subsidiary of Form Holdings, headquartered in Phoenix, AZ, serves customers world-wide. Group Mobile is a rapidly expanding and growing and innovative full end-to-end solution provider of rugged mobile hardware, lifecycle services, system integration, hardware service support, pre-and post-deployment, break-fix, warranty repair, customer support helpdesk and more — all constructed to solve pressing problems and ensure our customers are receiving exceptional value, return on investment and a trusted long-lasting partnership. Group Mobile has mastered the true challenges of mobility through understanding the key elements required for a successful mobile deployment — hardware, connectivity, data and customer back-end network infrastructures. Visit groupmobile.com for more information.
About Xplore Technologies
Xplore is The Rugged Tablet Authority™, exclusively manufacturing powerful, long-lasting, and customer-defined rugged tablet PCs since 1996. Today, Xplore offers the broadest portfolio of genuinely rugged tablets – and the most complete lineup of rugged tablet accessories – on Earth. Its mobility solutions are purpose-built for the energy, utilities, telecommunications, military and defense, manufacturing, distribution, public safety, healthcare, government, and field service sectors. The company's award-winning military-grade computers are also among the most powerful and longest lasting in their class, built to withstand nearly any hazardous condition or environmental extreme for years without fail. Visit http://www.xploretech.com for more information on how Xplore and its global channel partners engineer complete mobility solutions to meet specialized workflow demands.