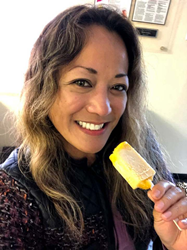 "We are very excited by the relationship. We know that FFB and its team of highly professional reps throughout the USA, Canada, Mexico and the Caribbean will do very well with our all-natural one of a kind fruit bar that will continue to exceed customer's expectations daily," says CEO, Joseph Isaacs
TAMPA, Fla. (PRWEB) February 05, 2020
Buzz Pop Cocktails® are the world's first and only 100% all-natural fresh fruit, authentic Italian sorbet made with a full shot of premium spirits in each one – serving customers around the U.S. high-quality, all-natural frozen specialty sorbets. Buzz Pops are fat free, Vegan, Gluten free, certified OU Kosher and under 100 calories.
These guilt-free indulgences have made a bi-coastal presence over the last two years and are available at Disney Springs in Florida, Godfrey Hotel in Chicago, TAO properties in NYC including the Magic Hour & Beach rooftop bars, Catalina Island off the coast of Los Angeles, Wrigley Field in Chicago, Legend's Field in Anaheim, Amalie Arena in Tampa, sporting arenas along with convention centers, through event planners and established hotel brands such as; Ritz Carlton, MGM, Wyndham, Marriot, Four Seasons, Waldorf Astoria among others.
By partnering with Family Food Brokers, headquartered in Ft. Lauderhill, Florida Soothe Ice will immediately have access to distribution and representation in 40 states around the USA and internationally. Soothe Ice is an all-natural fruit bar made with hemp oil and the first product of its kind to launch anywhere. Soothe Ice will follow the mantra of healthy from its parent company, Buzz Pop Cocktails. This new and innovative product will be Vegan, Gluten free, fat free and is made from only Organic fruits. Soothe Ice will be in a fruit bar format eliminating the single use plastics that are currently used by Buzz Pops.
"We are very excited by the mutually beneficial relationship with Family Food Brokers which offers us an immediate nationwide expansion. We know that Family Food Brokers and its team of highly professional reps throughout the USA, Canada and the Caribbean will do very well with our all-natural one of a kind fruit bar that will continue to exceed customer's expectations daily," says CEO, Joseph Isaacs. "We are the Rolls Royce of alcoholic popsicles and Buzz Pops was voted #1 during a Huffington Post taste test. Soothe Ice will deliver another first to market product line," he adds.
About Family Food Brokers
Family Food Brokers has a proven track record over 17 years with the major principles having 35+ years of experience in retail and food service sales. FFB are master brokers that handle the entire U.S., Caribbean islands, Mexico, Europe and Canada. FFB employs a team of street representatives (each one assigned to major cities around the U.S.) with the specific task of building the 'mom and pop' business. FFB are brokers of 60+ natural, organic, gluten-free, Non-GMO, diabetic friendly and kosher lines. The FFB retail representation includes – natural and conventional retailers, 'mom and pops, spas, gyms, juice bars, cafes, boutique shops, food emporiums, convenience stores, mini marts, dollar stores and vending machines. The FFB food service representation includes cruise lines, airlines, hotels, restaurants, caterers, hospitals nursing homes, universities, stadiums and concert halls.
About Buzz Pop Cocktails
Soothe Ice is a wholly owned subsidiary of Buzz Pop Cocktails. Buzz Pop Cocktails is the only ready-to-serve, all natural 100% fruit, authentic Italian sorbet made with top shelf liquors. Buzz Pops only serves their customers a high-quality, all-natural frozen specialty sorbet. Buzz Pops was recently the recipient of a Gold Medal in the 2019 Proof Awards and also ranked the #1 alcoholic popsicle by Huffington Post. Buzz Pops is proud of its healthy product which contains NOTHING artificial and no high fructose corn syrups or imitation sweeteners.
Buzz Pops are an "Indulgent premium cocktail with a healthy twist" delivered in an old-fashioned, retro see through push pop. Buzz Pops are not sold in liquor stores but instead through a food service model which includes such iconic customer brands such as Caesar's Entertainment, Aramark, Levy Restaurants, TAO Group, Waldorf Astoria, 4 Seasons, Ritz Carlton, Marriot, Wyndham Hotels and Disney Springs. Buzz Pops are also available in convention centers, sporting arenas, at corporate/private events and through event planners. https://www.buzzpopcocktails.com