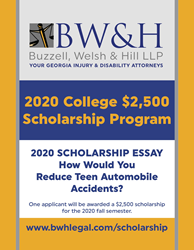 "Continuing to learn and build skills through college or trade school can change a young person's trajectory."
MACON, Ga. (PRWEB) March 03, 2020
Buzzell, Welsh & Hill recently announced a $2,500 Scholarship Program to help the next generation of college students realize their educational and professional goals. It's the second year that the firm has hosted the contest.
"In today's working world, education beyond high school is incredibly important," said Steve Welsh, Managing Partner at the firm. "Continuing to learn and build skills through college or trade school can change a young person's trajectory."
The $2,500 scholarship will go to the winner of a contest to create a marketing campaign targeting distracted driving among teens. According to the National Highway Traffic Safety Administration, distracted driving claimed more than 3,166 lives in 2017, the most recent year on record, and teens are especially at risk. But everyone—including other young drivers—can play a part in better educating teens about the dangers.
"More and more distractions are being integrated into our cars every day," added Welsh. "It really takes effort and education to change behavior and refocus on the road."
Scholarship contest participants will create marketing campaigns, including taglines and promotional materials, that resonate with young people in and around Macon. One applicant will be awarded a $2,500 scholarship for the Fall 2020 semester. Buzzell, Welsh & Hill plans to use the winning submission to help educate the public about the dangers of distracted driving.
The contest is open to US citizens and permanent residents who are attending or plan to attend an accredited US college, university, or technical/trade school in the Fall 2020 semester. The deadline to apply is April 30, 2020, with the winner selected in early May.
For more information, visit https://www.bwhlegal.com/scholarship.
About Buzzell, Welsh & Hill
Founded in 1998, Buzzell, Welsh & Hill is an AV Preeminent® rated personal injury law firm based in Macon, Georgia. Our attorneys are active in the Middle Georgia law community, serving as past presidents of the Macon Bar Association and leadership roles in local and state Bar and Trial Lawyers associations. Representing clients who have suffered injury, mistreatment, or death due to the negligence of others, our firm focuses on quality representation through individualized support.