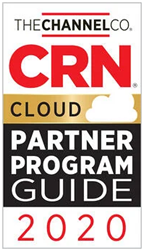 PHILADELPHIA (PRWEB) September 23, 2020
bvoip, the leading provider of integrated communications for MSPs, is pleased to announce that CRN®, a brand of The Channel Company, has named bvoip in its 2020 Cloud Partner Program Guide. This annual list identifies industry-leading cloud technology vendors with innovative partner programs that empower and accelerate the growth of solution providers' cloud initiatives.
bvoip's partner base spans North America, Europe, and APAC with over 1800 partners in the ecosystem. bvoip goes the extra distance to provide a great experience for their partners. They offer hands-on assistance from on-boarding, training, support, all the way to managed marketing programs to assist with partner sales efforts. This was designed exclusively for IT and Managed Services Providers to be able to adopt the bvoip platform and scale. They strive for their partners to adopt bvoip internally, connect to their tools, experience workflow automation, reporting, and management, and then be able to standardize an offering for their end customers.
bvoip's CEO, George Bardissi, said, "We built bvoip because we felt the other offerings in the marketplace didn't go far enough, solve enough, or really cater to the IT and MSP Channel. Nobody wants another me-too rubber stamp offering or program. Our partners are our business. Everything we do starts and ends with them and that's the way we continue to build our company and empower the IT and MSP community."
The Cloud Partner Program Guide is a practical map for solution providers navigating the ever-changing cloud landscape, helping them to locate technology suppliers with groundbreaking cloud offerings and partner programs. To meet the requirements for inclusion, vendors must have unique partner program benefits that address critical challenges in cloud infrastructure or applications.
"With so many cloud options available today, solution providers may find it tough to find the vendor that best complements their unique business strategy," said Blaine Raddon, CEO of The Channel Company. "The Cloud Partner Program Guide identifies the vendor partners with a strong combination of technology, training, support, and financial incentives to help cloud initiatives succeed."
The Cloud Partner Program Guide can be viewed online at http://www.crn.com/cloud-ppg. Additional coverage will be featured in the October issue of CRN Magazine.
About bvoip
bvoip (http://www.bvoip.com) helps IT and Managed Service Providers attack voice and unified communications worldwide. Having come out of the MSP space, bvoip designed its program to not only automate how MSP's interact with their existing systems and tools but to also assist MSP's with an offering to standardize their Unified Communications offering to their customers. bvoip is currently available in North America, Europe, and the Australian / New Zealand Regions.
bvoip.com
Follow bvoip: Facebook, LinkedIn and Twitter
About The Channel Company
The Channel Company enables breakthrough IT channel performance with our dominant media, engaging events, expert consulting and education and innovative marketing services and platforms. As the channel catalyst, we connect and empower technology suppliers, solution providers and end users. Backed by more than 30 years of unequalled channel experience, we draw from our deep knowledge to envision innovative new solutions for ever-evolving challenges in the technology marketplace.
thechannelcompany.com
Follow The Channel Company: Twitter, LinkedIn and Facebook
© 2020 The Channel Company, LLC. The Channel Company logo and CRN logo are registered trademarks of The Channel Company, LLC. All rights reserved.
The Channel Company Contact:
Jennifer Hogan
The Channel Company
jhogan@thechannelcompany.com
bvoip Contact:
Sade Mendez
bvoip
215-402-7200 x675
smendez@bvoip.com
###