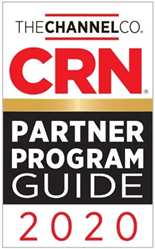 PHILADELPHIA (PRWEB) March 31, 2020
bvoip, the leading provider of integrated communications for MSPs, today announced it is being recognized by CRN®, a brand of The Channel Company, in its 2020 Partner Program Guide. This annual guide is the definitive listing of the most rewarding partner programs from technology companies that provide products and services through the IT channel.
bvoip's partner base spans North America, Europe, and Australia / New Zealand with over 1500 partners in the ecosystem. bvoip provides hands on assistance from on-boarding, training, support all the way to managed marketing programs to assist with partner sales and marketing efforts. The experience is designed for IT & Managed Services Providers to be able to adopt the program and scale. The technical design and layout of the bvoip platform really concentrates on the partner experience first and then extends to their end users.
bvoip's CEO, George Bardissi, had this to say "We are proud to be included in this guide for multiple years running. Being a company who builds and grows through the MSP Channel is not the same as have a side channel program. We live, breath, and grow by working with our partners to grow together. We have spared no expense trying to empower our partners to be as successful as possible."
The Channel Company's research team analyzed each vendor's partner program to compile this guide. Each was scored based on several factors, including investments in program offerings, partner profitability, partner training, education and support, marketing programs and resources, sales support, and communication. Based on that assessment, the partner program with Axcient stands among the top technology suppliers in the IT channel, providing excellent value and support for solution providers.
"With the speed and complexity of technology today, solution providers need partners that can keep pace and support their growing business," said Bob Skelley, CEO of The Channel Company. "CRN's Partner Program Guide features insight into the strengths and benefits of each company's program to identify those that truly support and drive positive change within the IT channel."
The 2020 Partner Program Guide will be featured in the April issue of CRN® and online at http://www.CRN.com/ppg.
To learn more about bvoip or start a free trial, please visit http://www.bvoip.com
About bvoip
bvoip (http://www.bvoip.com) helps IT and Managed Service Providers attack voice and unified communications worldwide. Having come out of the MSP space, bvoip designed its program to not only automate how MSP's interact with their existing systems and tools but to also assist MSP's with an offering to standardize their Unified Communications offering to their customers. bvoip is currently available in North America, Europe, and the Australian / New Zealand Regions. http://www.bvoip.com
Follow bvoip: Facebook, Twitter.
About The Channel Company
The Channel Company enables breakthrough IT channel performance with our dominant media, engaging events, expert consulting and education, and innovative marketing services and platforms. As the channel catalyst, we connect and empower technology suppliers, solution providers, and end users. Backed by more than 30 years of unequalled channel experience, we draw from our deep knowledge to envision innovative new solutions for ever-evolving challenges in the technology marketplace. http://www.thechannelcompany.com
Follow The Channel Company: Twitter, LinkedIn, and Facebook
###