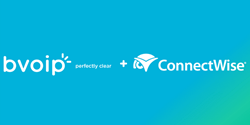 PHILADELPHIA (PRWEB) April 29, 2019
bvoip is proud to announce our 3.0 integration with ConnectWise, a software company that connects technology teams to the solutions, services and resources necessary for success.
1Stream, bvoip's integration with ConnectWise Manage, features deep integration between bvoip's Unified Communication and VoIP Platform to allow for automatic number recognition, automatic screen pop's, ticket creation, opportunity creation, activity – time entry - and note creation, automatic call recording uploads, and more.
bvoip helps merge real-time client communication efforts of MSPs and their line-of-business suite to provide deeper insight, operational efficiency, and enhance customer experience. MSPs who adopt bvoip and 1stream to tie into their investment into ConnectWise Manage will

Capture time that previously may have been missed into their records
Automate entries which will save time of engineers and technicians
Streamline information access to enhance customer experience and spend less time locating information
Provide flags, and notes, on incoming and outgoing calls to better prepare internal staff for customer calls
Track the entirety of calls, via call recordings, that will upload against the correct records to maintain customer service, and increase satisfaction
bvoip CEO George Bardissi said, "we are committed and happy to build upon our company journey by doubling down on our efforts to working with ConnectWise in order to bring meaningful integration and an enhanced experience to the MSP Community. Coming from an MSP we understand the day-to-day challenges that occur, and we feel our Unified Communications Stack coupled with our 1Stream integration along with ConnectWise Manage breaks through barriers that all MSPs struggle with."
bvoip's 1Stream, integration was built through the ConnectWise Invent program. bvoip will continue as a Certified Integrator, ensuring MSP partners receive the best experience with ConnectWise and bvoip.
"We are excited to have bvoip join our group of integrators in the Invent program," said Travis Vigneau, Director of Solution Partner Strategy at ConnectWise. "Along with bvoip, we are committed to the immediate success of our partners and the ConnectWise ecosystem as a whole."
ABOUT bvoip
bvoip (http://www.bvoip.com) helps IT and Managed Service Providers attack voice and unified communications worldwide. Having come out of the MSP space, bvoip designed its program to not only automate how MSP's interact with their existing systems and tools but to also assist MSP's with an offering to standardize their Unified Communications offering to their customers. bvoip is currently available in North America, Europe, and the Australian / New Zealand Regions. http://www.bvoip.com
ABOUT CONNECTWISE
ConnectWise is a software company that connects teams with the platform and solutions that deliver technology as a service to the world. Our award-winning business management platform automates the full lifecycle of technology service delivery, from sales and service to project tracking and back-office functions, for more than 25,000 partners in more than 65 countries. We believe in an open ecosystem, the power of choice, and providing a single pane of glass view. With more than 35 years of experience, ConnectWise delivers the software solutions and support companies want at each step of their business journey. For more information, visit ConnectWise.com.