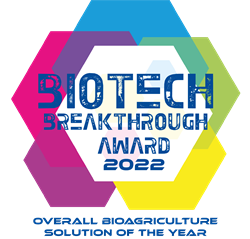 C16 Biosciences' mission is to stop deforestation and the high-carbon production practices present in palm oil production. Consumers want the products they love and our palm oil solution will enable consumers to continue buying them - said Shara Ticku, co-founder and CEO of C16 Biosciences
LOS ANGELES (PRWEB) November 08, 2022
BioTech Breakthrough, a leading independent market intelligence organization that evaluates and recognizes standout life sciences and biotechnology companies, products and services around the globe today announced that C16 Biosciences, which produces sustainable alternatives to palm oil using biotechnology, has been selected as "Overall BioAgriculture Solution of the Year" in the second annual BioTech Breakthrough Awards program.
C16 Biosciences has developed a platform for next-generation ingredients, focused on oils and fats, starting with palm oil alternatives. Palm oil is the most widely used vegetable oil in the world, found in over 50% of products on supermarket shelves. Its fatty acid profile enables the production of a wide range of derivatives that serve as emollients, surfactants, and emulsifiers in the personal and home care industries.
C16 Biosciences' platform combines precision fermentation -- a well-studied technology with established technologies and infrastructure -- with technical innovations across strain engineering, process engineering, and product development. C16 Biosciences has turned its proprietary microorganism into a "micro-factory" to produce oils and fats efficiently, with traceable, transparent, sustainable supply chains. The company's technology allows for a scalable, globally flexible, low-cost production process.
"We are honored to receive this award from BioTech Breakthrough. Palm oil is ubiquitous in our daily lives. Its saturated to unsaturated fat ratio lends itself well to food products ranging from baked goods to baby formula.. However, the $60B industry has resulted in three million hectares of tropical rain forest land being deforested. We know 10 percent of all global CO2 emissions come from deforestation. This is on top of the predatory labor practices, forest fires and the destruction of water sources palm oil harvesting causes," said Shara Ticku, co-founder and CEO of C16 Biosciences. "C16 Biosciences' mission is to stop deforestation and the high-carbon production practices present in palm oil production. Consumers want the products they love and our palm oil solution will enable consumers to continue buying them. With this reimagined supply chain, scaled production of novel oils are expected to outperform existing alternatives and meet the cost, performance, and sustainability requirements that brands and consumers demand."
The mission of the annual BioTech Breakthrough Awards program is to conduct the industry's most comprehensive analysis and evaluation of the top companies, solutions and products in the life sciences and biotechnology industry today. This year's program attracted more than 1,350 nominations from over 12 different countries throughout the world.
"Exploding demand for fats and oils is putting pressure on land mass and supply chains. This growing demand reveals existing supply chains as unpredictable, inefficient, and unsustainable. While oil palms are incredibly efficient, they can only be grown in the tropics. Further, the growth of palm plantations, in particular, is having a devastating impact on the climate and human health and wellbeing," said Bryan Vaughn, Managing Director of BioTech Breakthrough Awards. "C16 Biosciences' proprietary technology platform uses biomanufacturing - as opposed to agriculture - to produce a sustainable palm oil alternative that doesn't rely on deforestation. This also results in better control of the oil properties and provides a fully traceable, more efficient supply chain. Congratulations on a true breakthrough and being our pick for 'Overall BioAgriculture Solution of the Year.'"
####
About C16 Biosciences
C16 Biosciences is a New York City-based climate-tech startup producing next-generation ingredients to decarbonize consumer product supply chains. The company's proprietary biomanufacturing platform produces better performing, more sustainable alternatives to oils and fats. Its first product is a palm oil alternative, set to launch in the beauty sector in early 2023. For more information, please visit http://www.c16bio.com.
About BioTech Breakthrough
Part of Tech Breakthrough, a leading market intelligence and recognition platform for global technology innovation and leadership, the BioTech Breakthrough Awards program is devoted to honoring excellence in life science and biotechnology solutions, services and companies. The BioTech Breakthrough Awards provide public recognition for the achievements of biotechnology companies and products in categories including BioPharma, Genomics, Therapeutics, Food Science and BioAgriculture, and more. For more information visit BioTechBreakthroughawards.com