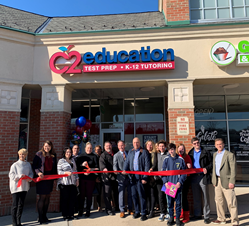 During their Ribbon Cutting Ceremony, C2 Franklin Lakes presented cash donations to a student athlete in need.
JOHNS CREEK, Ga. (PRWEB) January 24, 2020
Franklin Lakes' Mayor Frank Bivona, Freeholder Tom Sullivan, and Dr. Brian Mahoney, President of Bergen Catholic High School, welcomed the new C2 Education at the official ceremony. During the event, C2 presented donations totaling almost $3,000 to the family of Antonio Iapicca, an injured local high school athlete for whom the center hosted a series of fundraising events in December. The center also presented a C2 Scholarship to Jake Frederick, who played a central role in the fundraising efforts benefiting Antonio's family. "We're proud to join such a caring community and look forward to helping area students realize their full academic potential in the coming years," said Center Director Tina Mulligan.
For more information about the new location, call 201-540-8558, visit C2Education.com/franklinlakes, or stop by the center.
Nationally, C2 has a proven track record of helping students gain acceptance to the country's top colleges. C2's class of 2019 received over 3,200 top 100 college acceptances and $45 million in scholarship offers. The top 100 colleges & universities are according to U.S. News & World Report's Best College Rankings.