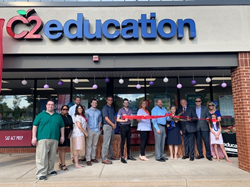 "We are so excited to be a part of the Doylestown community where local area residents will now have a great new resource to help their kids go on to their dream colleges." - Center Director Josephine Seong
DOYLESTOWN, Pa. (PRWEB) August 21, 2019
C2 Education (C2), the nation's premier network of subject tutoring, SAT®, ACT® and PSAT® test prep and college admissions counseling centers held a ribbon cutting ceremony and Grand Opening Celebration in Doylestown on Tuesday, August 20th to help usher in C2's newest location at 4383 West Swamp Road. The days activites included an Open House and Ribbon Cutting Ceremony with Doylestown Mayor, Rob Strouse, and the Doylestown Chamber of Commerce.
C2 Education now has five locations in Pennsylvania that are part of more than 180 locations throughout the country.
"We are so excited to be a part of the Doylestown community," said Center Director Josephine Seong. "Local area residents now have a great new resource to help their kids go on to their dream colleges."
Families and students interested in learning more about the new location should call 267-245-6262 or visit http://www.c2educate.com/locations/doylestown-pa/.
About C2 Education
C2 Education (http://www.C2education.com) was founded in 1997 by David Kim and Jim Narangajavana, two Harvard students offering private tutoring programs from their dorm room. Now one of the nation's leading Tutoring, Test Prep, and College Admissions Counseling organizations, the company has grown to over 180 centers nationwide serving over 14,000 students and their families. C2 utilizes a unique approach that combines individualized instruction, customized curriculum, and dedicated education experts that helps students on the path to their dream college. C2 Education is headquartered in Johns Creek, Georgia. Follow the company on Facebook at facebook.com/c2education.
Media Contact:
Kenny Fried
Email: kfried(at)aboutbwf(dot)com