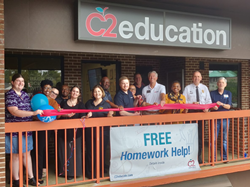 OLNEY, Md. (PRWEB) September 17, 2019
C2 Education (C2), the nation's premier network of subject tutoring, SAT®, ACT®, and PSAT® test prep and college admissions counseling centers held a Grand Opening Celebration in Olney, Maryland on Saturday, September 14th to help usher in C2's relocation to a larger space on the second level in the Hillcrest Center at 18200 Georgia Avenue. Saturday's events included a ribbon cutting ceremony featuring local dignitaries and an open house where parents and students toured the new center and met the Olney C2 team.
C2 Olney has helped students gain acceptance to their dream colleges all around the country including –Princeton, Yale, Vanderbilt, University of California at Santa Barbara and Davis, University of North Carolina, and University of Georgia as well as closer to home at Georgetown, UVA, and Maryland.
Families and students interested in learning more about the new location can stop by, call 301-260-1988 or visit https://www.c2educate.com/locations/olney-md .
About C2 Education
C2 Education (http://www.C2education.com) was founded in 1997 by David Kim and Jim Narangajavana, two Harvard students offering private tutoring programs from their dorm room. Now one of the nation's leading Tutoring, Test Prep, and College Admissions Counseling organizations, the company has grown to over 180 centers nationwide serving over 14,000 students and their families. C2 utilizes a unique approach that combines individualized instruction, customized curriculum, and dedicated education experts that helps students on the path to their dream college. C2 Education is headquartered in Johns Creek, Georgia. Follow the company on Facebook at facebook.com/c2education.
Media Contact:
Kenny Fried
Email: kfried@aboutbwf.com
Phone: 202-468-8200