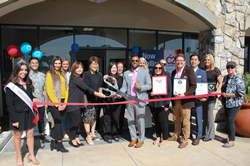 C2 Education keeps growing from coast-to-coast with new locations in both the Los Angeles and Chicago metros.
JOHNS CREEK, Ga. (PRWEB) November 15, 2019
C2 Education of Downers Grove is located at 62B Ogden Avenue and is C2 Education's 13th location in the Chicago area. The center held its official ribbon cutting ceremony, which was hosted by Chamber630, on Tuesday, October 22nd. Center Director Veronica Arora noted, "Chicago has been a tremendous supporter of C2 Education, and we're pleased to open a terrific new facility in Downers Grove providing the area's finest tutoring, test prep, and college counseling services."
C2 Education of Huntington Beach is located at 7151 Yorktown Ave, Suite 101 and is C2 Education's 54th location in California. On Wednesday, October 30th, the Huntington Beach Chamber of Commerce welcomed the new C2 Education with an official ribbon cutting ceremony. "We're excited to open this 8th location in Orange County offering the same high standards and outstanding results to area families and students as the rest of OC's C2 centers," said Center Director Amy Lee.
For more information about these new locations, visit the C2 Education location finder at c2education.com/locations.
Nationally, C2 has a proven track record of helping students gain acceptance to the country's top colleges. C2's class of 2019 received over 3,200 top 100 college acceptances and $45 million in scholarship offers.
About C2 Education
C2 Education (http://www.C2education.com) was founded in 1997 by David Kim and Jim Narangajavana, two Harvard students offering private tutoring programs from their dorm room, and has grown to over 190 centers nationwide serving over 15,000 students and their families. C2 is the only service that combines in-person test prep, tutoring, and college admissions counseling into a comprehensive, personalized program that supports students on the journey to their dream college. C2 Education is headquartered in Johns Creek, Georgia. Follow the company on Facebook at facebook.com/c2education.