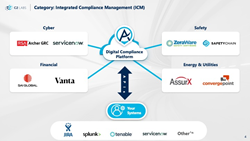 "Meeting compliance obligations has traditionally been an archaic, slow, risk-averse, and expensive process," said Travis Howerton, co-founder and chief technology officer, C2 Labs. "With Atlasity, we bring DevOps to compliance to solve the most difficult compliance headaches that companies face."
WASHINGTON (PRWEB) February 03, 2021
C2 Labs, an agile digital transformation partner focused on delivering continuously compliant solutions to regulated industries, today announced the general availability and release of Atlasity Community Edition, the world's first freemium Integrated Compliance Management automation platform designed for heavily regulated industries.
Atlasity digitizes any regulatory requirement and is deployable in any environment. It includes tightly integrated modules and features built from the ground up to easily create compliance artifacts. Atlasity's API-centric approach automates the collection, compilation and reporting of data related to an organization's compliance obligations, serving as the single source of compliance truth. This approach ensures that companies are continually compliant, reducing risk and cost while simultaneously increasing productivity.
Atlasity includes more than 48 compliance frameworks for regulations such as the National Institute of Standards and Technology (NIST) (including SP 800-53 Rev 4 & 5, Cyber Security Framework (CSF), 800-171, and OSCAL); Sarbanes-Oxley (SOX); the Health Insurance Portability and Accountability Act (HIPAA); the Department of Defense (DoD) Cybersecurity Maturity Model Certification (CMMC); and more. It also includes frameworks for industry-specific regulations for the energy and financial services industries such as the North American Electric Reliability Corporation (NERC) Critical Infrastructure Protection (CIP) standards; and the Financial Services Sector Coordinating Council (FSSCC). C2 Labs' proprietary digitization engine is able to rapidly ingest new regulations and frameworks for clients in hours or days to support any new regulation.
Need for Continuous Compliance
Compliance has become increasingly important for organizations in recent years with the growing number of cyberattacks along with the increasing costs of fines and the plethora of new and changing industry regulations, all of which require more diligent compliance efforts. Organizations fear the repercussions that come from non-compliance and failing an audit, such as large fines, reputation loss and associated staff reductions. To spotlight the problem, corporations paid $59B in fines for U.S. regulatory infractions in 2015, a more than 500% increase since 2010, according to McKinsey.
"Organizations across industries struggle to ensure they are meeting their compliance obligations consistently, and a new approach to help companies become continuously compliant has been critically needed for years," said Anil Karmel, co-founder and chief executive officer at C2 Labs. "Drawing on years of experience in regulated industries, our team designed Atlasity to automate a company's compliance processes so they are able to understand, ensure and demonstrate their compliance at any moment in time, rather than conducting a fire drill to collect and analyze information around reporting schedules and audits."
The Atlasity Difference
With more than 18 modules tightly integrated with the platform's hundreds of real-time open REST APIs, Atlasity meets the most demanding compliance needs in highly regulated industries.
Atlasity simplifies the complexity of regulatory compliance in four dimensions by:

Converting and digitizing manual compliance documents and regulations;
Unlocking data silos for compliance information via a centralized, integrated platform that delivers improved workflow and collaboration;
Leveraging an API-centric approach that integrates with common systems such as Jira, Splunk, Tenable, ServiceNow and others to eliminate the manual processes of collecting and synthesizing information to update Word documents and Excel spreadsheets; and
Automating the production of reports needed to demonstrate compliance in a timely manner to regulators, CISOs, internal audit teams, and others.
Customers benefit from simple wizards and automated drag and drop workflows, allowing them to create compliance artifacts quickly while speeding approvals. They can also create real-time and automated assessments to help their organizations better understand and manage compliance risks in a proactive manner. The collaborative capabilities allow all stakeholders and data owners in the compliance process to work together in one platform to dramatically improve productivity and lower costs.
"Meeting compliance obligations has traditionally been an archaic, slow, risk-averse, and expensive process," said Travis Howerton, co-founder and chief technology officer, C2 Labs. "With Atlasity, we bring DevOps to compliance to solve the most difficult compliance headaches that companies face and help them transition their dated, manual, and static compliance documentation and processes to a dynamic, automated, and collaborative platform in real-time. In addition, we are more than just another cyber tool in the cloud. We deploy anywhere, including behind our customer's firewalls, can manage any compliance needs (safety, quality, security, etc.), and continue to push the art of the possible in compliance automation by being one of the first tool vendors to support the new NIST OSCAL standard."
The C2 Labs team has deep expertise in government regulations and the industries they affect. Most recently, Karmel was deputy chief technology officer at the National Nuclear Security Administration (NNSA) and developed cloud computing solutions for the DOE Nuclear Weapons Complex while at Los Alamos National Laboratory (LANL). Howerton has served in a number of executive positions in government and industry, including as CTO for NNSA, deputy CIO at Oak Ridge National Laboratory (ORNL), and as the global director for strategic programs at Bechtel Corporation.
Licensing Made Easy
Atlasity was built with scalability and affordability in mind in order to provide a variety of purchase options for all needs from a single user up to tens of thousands of concurrent users. The Community Edition is free for all users with the Enterprise Edition (currently in Private BETA) to be released later in 2021. Customers can easily get started for free and can seamlessly upgrade to Enterprise Edition when it becomes available.
A full list of the Atlasity regulations supported today is at https://atlasity.io/regulations.
About C2 Labs:
Founded in 2014, C2 Labs delivers continuously compliant solutions to regulated industries, freeing organizations from paper via its Atlasity compliance software and DevSecOps services. Through its Atlasity Integrated Compliance Management platform, C2 Labs helps companies continuously comply with laws and regulations such as GDPR, NIST, CMMC, and CCPA. For more information, visit: https://www.c2labs.com/.