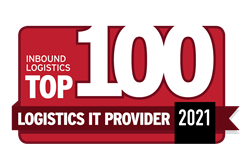 C3 Solutions continues to provide the technology solutions our readers need to achieve the visibility and control that drives successful supply chains. C3 stays flexible and responsive, anticipating the evolving needs of both customers and the market. - Felecia Stratton, Editor, Inbound Logistics
MONTREAL (PRWEB) May 14, 2021
Drawn from a pool of more than 400 companies, using questionnaires, personal interviews, and other research, Inbound Logistics selects the Top 100 Logistics IT Providers who are leading the way in 2021.
Editors seek to match readers' fast-changing needs to the capabilities of those companies selected. All companies selected reflect leadership by answering Inbound Logistics readers' needs for scalability, simplicity, fast ROI, and ease of implementation.
C3 Reservations, C3's Online Dock Scheduling System, streamlines the scheduling process by improving dock productivity, expanding visibility on scheduled appointments and measuring vendor compliance.
C3 Yard, C3's Web-based Yard Management Solution, empowers yard managers by providing visibility on yard assets, optimizing the flow of trailers from gate to gate and automating yard driver task assignment.
About C3 Solutions
C3 Solutions is an information technology company specialized in yard management (YMS) and dock scheduling systems. Since its founding in 2000, C3 has gained the confidence of clients around the world and across many industries, including retail, grocery, distribution, manufacturing and parcel post.
Headquartered in Montreal (QC), Canada and privately owned, C3 is dedicated to developing, implementing and supporting the most complete yard management and dock scheduling products on the market today. For more information on C3's products, schedule a free online demonstration.http://www.c3solutions.com
About Inbound Logistics
Since its inception in 1981, Inbound Logistics' educational mission is to illustrate the benefits of demand-driven logistics practices, give companies the knowledge to help them match the inbound flow of materials to their demand, and align their business process to support that shift.
Inbound Logistics offers real-world examples and decision support to guide businesses to efficiently manage logistics, reduce and speed inventory, and offset rising materials and logistics costs, supporting business scalability and change management across their value chain. More information about demand-driven logistics practices is available at http://www.inboundlogistics.com.