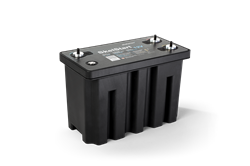 Until now, U.S. fleets have been at the mercy of their maintenance practices and the weather when it comes to starter battery reliability. – Jean Labrie
ORLANDO, Fla. (PRWEB) February 28, 2023
C8 Energy, an Ontario-based company dedicated to a greener future and to providing more efficient energy options for commercial vehicles and heavy machinery, formally announced that it has been named North American master distributor for the patented SkelStart Engine Start Module. Invented by Skeleton Technologies, the world's largest supercapacitor manufacturer, the SkelStart has been widely embraced in Europe and, through Skeleton's agreement with C8 Energy, is now available to commercial fleets throughout the United States and Canada. The product will be on display in Booth # 2347 at the Technology Maintenance Council (TMC) 2023 Spring Meeting & Transportation Technology Exhibition in Orlando, Fla.
Cold Starts a Problem from Time Immemorial
Lead-acid battery failures are so endemic, that many fleets simply consider battery replacement a cost of doing business. Starter battery problems in particular, consistently rank among the topmost common roadside repairs. Where a battery fails dictates how seriously and costly the problem will be for a fleet, and if a service or tow truck has to be deployed, additional fees and downtime costs can soar. Cold-weather months exacerbate the problem exponentially, and battery failures inevitably rise each winter.
"Until now, U.S. fleets have been at the mercy of their maintenance practices and the weather when it comes to starter battery reliability," said Jean Labrie, CEO of C8 Energy. "Marketing ploys, like the term 'maintenance-free' batteries,' confuse the issue further, because even premium batteries won't survive in really cold weather or without basic maintenance."
A Supercharged Solution
The SkelStart Engine Start Module is a supercapacitor designed exclusively to take on the duties of engine starting, thus relieving a vehicle's remaining battery bank from that burden. SkelStart modules replace starter batteries and are engineered to have a similar dimensional envelope as a standard commercial vehicle battery.
One SkelStart Engine Start Module will easily crank a 27-liter engine, and four SkelStarts can crank a large 85-liter engine. SkelStart supercapacitor technology reliably delivers 2,000 cold-cranking amps day in, day-out, for up to 1 million cycles. It also delivers that same starting power whether the ambient temperature is as low as -40 degrees Fahrenheit (-40 degrees Celsius) or as high as 149 degrees Fahrenheit (65 degrees Celsius).
"A supercapacitor is not hindered by temperature, nor is its performance impacted by extremes of cold or heat," said Labrie. "One SkelStart can put out three times the amperage of an average lead-acid battery, and the high amperage means less system-wide exposure to the low voltage associated with depleted lead-acid batteries."
Labrie explained that the low voltage delivered by a struggling lead-acid battery will cause higher resistance on the battery cables, which can result in starter burnouts.
Replacing starter batteries with supercapacitors makes sense for a fleet for four primary reasons: They cut down on roadside service calls; they cut down on cold start problems; they improve driver safety and comfort; and with a lifespan of up to 1 million cycles, they can theoretically outlast the vehicles they serve.
"Though this is anecdotal evidence of their effectiveness, we installed SkelStart Engine Start Modules as part of pilot field test programs in two very large fleets," recounted Labrie. "When the subzero winter weather recently gripped the country, those fleets both reported that only the vehicles with the SkelStarts were able to start unassisted."
Starts the Big 'Uns Too
The SkelStart is able to crank big 85-liter engines as well with no problem. It's powerful cranking capability and consistency is one of the things that some heavy equipment and off-highway fleets will find attractive about the product.
"We recently worked with one of Canada's largest open-pit gold mines and replaced two of the four Group 8D batteries in one of its massive dump trucks with the SkelStart in order to handle the dump truck's starting capacity," said Labrie. "We left two of the 8Ds to enable the ECU, ignition switch, lighting and other auxiliary vehicle functions. The SkelStarts have performed flawlessly during the frigid Canadian winter."
Distribution and Support Already in Position
C8 Energy has already begun building out broad reliable distribution and product support networks in both the United States and Canada. Among a string of other signed distribution contracts, C8 Energy also has an agreement with UAP Heavy Vehicle parts division, the largest heavy vehicle parts distributor in Canada. Distributor information is available by calling 905-361-6755, by emailing info@c8energy.com or by visiting the company's website.
To access high-resolution product images of the SkelStart Engine Start Module, please visit https://c8energy.com/medias
About C8 Energy
Located in Mississauga, Canada, C8 Energy brings over 30 years of expertise in the heavy-duty vehicle industry and a solid understanding of the North American battery ecosystem to bear in service to its customer base. Its mission is to provide a greener, more efficient energy solution for the heavy-duty vehicle industry, both on- and off-highway.
About Skeleton Technologies
Skeleton Technologies is the global technology leader in supercapacitor energy storage for automotive, transportation, grid and industrial applications. Itsgoal is to develop and produce the best supercapacitor cells, modules, and systems in the world, helping companies reduce CO2 emissions and save energy. Skeleton works with some of the largest companies in the world from leading Tier -1 automotive firms and industrial equipment OEMs to truck fleet operators and aerospace prime contractors. Its supercapacitors, based on patented Curved Graphene, represent the biggest technological advancement in the industry in the past 20 years, and the use of this innovative material provides its products with an unparalleled advantage in power and energy density. Skeleton Technologies Group has three main locations: its manufacturing in Großröhrsdorf, Saxony, Germany; materials development in Bitterfeld-Wolfen, Saxony-Anhalt, Germany; and electrical engineering in Tallinn, Estonia. Since its foundation in 2009, the company has grown from four to more than 300 people.
SkelStart is a registered trademark of Skeleton Technologies.