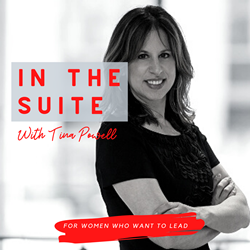 "The podcast is really a bridge to the information, knowledge, people, and networks that would help women take more risks with their careers, ultimately leading to greater career fulfillment." - Tina Powell, Podcast Host
WAYNE, N.J. (PRWEB) April 28, 2020
Founded by Tina Powell, CEO of C Suite Social Media, In the Suite is a podcast created to help close the gap that exists between men and women in the financial services and wealth management industry.
In each episode, Host Tina Powell sits down with top female CEOs, founders, innovators, and business leaders to talk about their inspiring stories of triumph, trepidation, and transformation. Through their rich experiences, guests highlight the strategies and skills they've leveraged to grow profitable businesses, build strong brands, and lead teams in the 21st century.
The podcast's content is relevant to all women who want to lead but particularly focused on women over 40. According to a McKinsey report, women and men in the financial service industry begin their careers at parity. In the past decade, the industry has made increasing efforts to attract and retain more women through targeted recruiting and retention initiatives. However, women still only account for 19 percent of C-suite positions.
Regularly consulting top c-level leaders in financial services, Powell understands the nuances faced by women as they navigate the male-dominated industry.
"While the efforts done to date are a good start, the numbers tell us that more needs to be done" she states. "I created In the Suite to take the conversation beyond ascending to a particular position or title. Instead, the podcast is really a bridge to the information, knowledge, people, and networks that would help women take more risks with their careers, ultimately leading to greater career fulfillment."
A new episode is available monthly on Apple Podcasts, iHeart Radio, Google Podcast, Spotify, Sticher, and Tune In + Alexa. Season 1 guests include Deborah Fox, CEO and Founder of Advisor Touch; Carolyn McClanahan, M.D., CFP®, CEO of Life Planning Partners, Inc.; Marguerita Cheng, CFP®, RICP®, CEO of Blue Ocean Global Wealth; Bonnie A. Sewell, CFP®, CDFA®, AIF®, CEPA®, CEO of American Capital Planning; and Sasha Pilch, Co-Founder NYC Fintech Women.
In the Suite promises to provide rich content that will serve as a resource for women over 40 to not only persevere in their careers – but to also be continuously inspired and buoyed with hope to thrive.