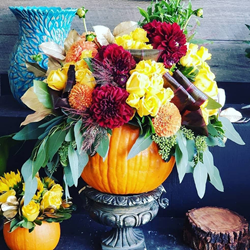 CFM petalers are cooking up a huge selection of some of the most stunning, on-trend, creative, zany Thanksgiving flower designs in Los Angeles.
LOS ANGELES (PRWEB) November 19, 2018
"Thanksgiving week has become a competitive design challenge for many CFM flower vendors to showoff their design style and talent. Petalers are cooking up a huge selection of some of the most stunning, on-trend, creative, zany Thanksgiving flower designs in Los Angeles. Whether they're displaying ready made designs or making custom arrangements while you wait, it's all happening in one 50,000 sf market full of flowers. Petalers' whimsical and varied turkey designs are especially fun for kids and families. DIY shoppers will find the freshest flowers direct from farms here. They'll see bespoke Thanksgiving floral arrangements that aren't available in grocery stores, or big box retailers. Some even have Thanksgiving flowers that transition to Christmas décor. Christmas flower and plant decor are available now, and the market reopens on Black Friday 4:30 am-4:30 pm all decked out for Christmas," says Mark Chatoff, owner and president of California Flower Mall.
Chatoff offers these tips for buying long lasting, quality, farm fresh Thanksgiving flowers at deep discount prices:

Pre-order today if you have a specific flower in mind or want a Wednesday delivery
Text Pinterest images of custom floral decor orders to vendors by Tuesday for Thursday pickup
Give the cook a break -- take the kids to CFM on Thanksgiving morning to pick custom arrangements – text them a picture or video of some options
Arrangements are the easiest last minute choice because it's all done for you – the busy host or hostess doesn't need to lift a finger to find the right vase or prep flower stems
Bring cash for the best prices – CFM has an ATM on the premises
Bargain – shop around and don't take the first price offered for flower arrangements especially on Thanksgiving morning; CFM petalers are eager to move orange harvest flowers off the shelf and get home to their families
Chatoff invites the floral trade and public to contact flower vendors directly with questions about prices, availability and pre-orders through the CFM website here: http://californiaflowermall.com/prices-and-availability/ , or, use the CFM flower vendor mobile device dialing directory here: http://californiaflowermall.com/floor-map-vendor-directory/ .
About California Flower Mall
California Flower Mall, located at 825 San Pedro Street with parking at the 824 San Julian Street entrance, is one of the largest premier DIY wholesale flower markets in the eight block Downtown LA Flower District trade community -- the largest concentration of wholesale flower markets and flower businesses in the U.S. It is located in the LA Fashion District Business Improvement District. Mark Chatoff is Chairman of the Fashion District BID Board of Directors. CFM welcomes the floral trade and public. The DTLA flower market does not charge an entry fee, or require documents or badges to purchase flowers. Customer amenities include an ATM, on-site patio café dining, customer restrooms and on-site parking.