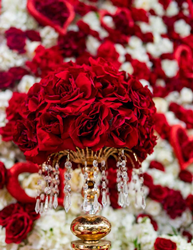 Red "Hearts" roses, a premium luxury bloom from Ecuador is an elegant Valentine favorite. - Mark Chatoff, owner & president of California Flower Mall
LOS ANGELES (PRWEB) February 13, 2020
"People will be delighted to see a city-block flower market full of on-trend, creative, whimsical, one of kind custom flower arrangements and novelty items at bargain prices. There are a variety of choices for every taste, budget, style, age, culture, and ethnic tradition," says Mark Chatoff, owner and president of California Flower Mall.
His custom Valentine's flower gift picks this year are:

Fragrant Garden Roses – Red "Hearts" roses, a premium luxury bloom from Ecuador is an elegant Valentine favorite. The Columbian variety of the ruffled rose with a heart-shaped center is known as "Wanted". The high price stems may reflect consumer confidence in this "blooming" economy. Growers Direct Flowers #102 and Victoria's Flowers #120 display several elegant custom designs. Vinny's Wholesale #122 has the "hearts" roses in bulk rose packs
How Big is Your Love? – In the "go big or go home class" large hearts, spirals and tree trunk designs say it with flowers
Rainbow Roses - Mireya's Flowers #121 was the first design team to introduce the full spectrum rainbow rose. Vinny's Wholesale #122, and Growers Direct offer bulk rainbow rose 25 packs in full-spectrum, purple/ blue, pink/purple, red/ black
Gold and Silver Tinted Roses – are dominant this year. Many men are attracted to silver and gold blooms. Ladies with a flair for bling like them too.
Flowers and Chocolates – the sweetest gift favorite are hatbox flower arrangements with gold-wrapped chocolates. Classy, higher-end velvet, satin and heart-shaped flower box gifts in exquisite color combinations are available at Vinny's Plants and Flowers #105 Sanchez & Ramos #109, Andrews Flowers #101 and Mireya's Flowers #121
Forever Roses - In the ultra-luxury class this year several showrooms offer preserved "Forever Roses", also known as everlasting roses, eternal roses, and roses that last a year. Preserved roses maintain a fresh-picked velvety texture for one to two years with proper care. Mireya's Flowers #121 features several new forever rose designs in protective acrylic cases
JJ's Wholesale Flowers #107 single forever rose stems under glass is an affordable keepsake.
About California Flower Mall
The California Flower Mall, located at 825 San Pedro Street with parking at the 824 San Julian Street entrance, is one of the largest DIY wholesale flower markets in the ten-block Downtown LA Flower District trade community — the largest concentration of wholesale flower markets and flower businesses in the U.S. CFM customer amenities include an ATM, cafe, customer restrooms, and on-site parking. CFM does not charge admission. For questions about flower availability and prices contact CFM vendors directly at http://californiaflowermall.com/floor-map-vendor-directory/