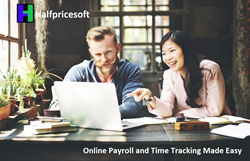 2018 California Overtime Rules accommodated with online time tracking software by Halfpricesoft.com.
LOS ANGELES (PRWEB) October 18, 2018
2018 California Overtime Rules are accommodated in the new online time tracking and payroll system from Halfpricesoft.com. California overtime law requires employers to pay eligible employees twice their rate of pay when those employees have worked more than 12 hours in a workday or more than eight hours on their seventh consecutive day of work.
Employers and HR managers can now manage business, easily from workstations, laptops, iPads, Chromebooks and mobile phones.
"2018 California Overtime Rules accommodated with online time tracking software by Halfpricesoft.com." said Dr. Ge, Founder of Halfpricesoft.com.
With Halfpricesoft.com online tracking system, employees can clock in and clock out from the employee's mobile device. The system will record the time to task level and the current location.
Known for affordability and ease of use, the online time tracking system was designed specifically for small business owners, nonprofits and HR department managers. It is loaded with intuitive features. Halfpricesoft.com developer's have eliminated comprehensive suites that small businesses will never use or need.
Halfpricesoft online tracking system has an amazing array of features that make time-tracking and payroll tasks simple and easy, including:

Support multiple accrual plans Auto-calculate PTO, leave time, vacation time, sick time based on the accrual plan;
Flexible employee working time, sick time and vacation time reports
Separate password protection for administrator and employees
Employees can clock in/out from mobile phone or desktop computer. The timesheet feature records GPS location. It also calculates employee overtime and double-pay time automatically.
Employer can view, edit, approve timesheets, turn timesheet into paychecks any time, anywhere.
Auto calculate overtime and double time by overtime rule.
Flexible project task reports to manage company
To begin the no obligation test drive, visit http://www.halfpricesoft.com/online
About Halfpricesoft.com and Online Time Tracking Software
Founded in 2003, Halfpricesoft.com has established itself as a leader in meeting the software needs of small businesses around the world with its desktop and online payroll software, online employee attendance tracking software, check printing software, family finance software, accounting software, 1095 form software, W2 software, W2 Correction software, 1099 software and ezACH Deposit software. It continues to grow with its philosophy that small business owners need affordable, user friendly, and totally risk-free software.