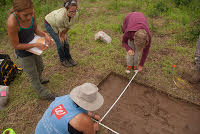 "Where History Meets Science"
Kampsville, Illinois (PRWEB) May 09, 2017
At the Center for American Archaeology, students involved in the High School Field School and the Arizona State University Field School programs participate in real archaeological research alongside professional archaeologists at one of the premiere archaeological centers in the country. Research has been conducted at CAA for more than six decades, and Kampsville has been host to many prominent archaeologists and bioarchaeologists over the years. Located just one and a half hours from St. Louis, Missouri, Kampsville's rich archaeological history provides a great place to explore the wonders of human history.
Students from all over the country come to attend these two programs, and space is limited. In HSFS and the ASU Field School, students will learn how to do fieldwork, laboratory work, identify artifacts, and more as they help the CAA summer field crew investigate the Golden Eagle site, the only known prehistoric site with an enclosing embankment in the Illinois River Valley.
HSFS students can register for one to four weeks. While in Kampsville, students learn excavation techniques, including shoveling, troweling, mapping, measuring, soil description, and flotation sampling. Lab work includes artifact washing, identification, and flotation. These activities are supplemented by occasional evening lectures by CAA archaeologists and guest archaeologists on various archaeological topics. High school and college credits can be arranged.
ASUFS students register for a 6 week-long course in one of two tracks – bioarchaeology and human osteology or field archaeology and geophysical testing. The bioarchaeology program is unique in the country. Enrollments are open to undergraduate and graduate students from any university. This field school carries nine credit hours.
"From the ASU Kampsville Program, I have gained tremendous insight into bones and the inspiring people who have excavated and found meaning in them. I have been challenged and pushed by both the field school's administration and its constituents. Kampsville is so much more than a "summer program"; based in the heart of archaeology, it provides an experience that is educational to its core." — Former Kampsville Student
For more information on CAA or to register for a program, go to http://www.caa-archeology.org