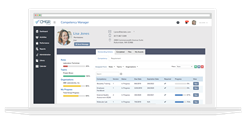 "We are delighted to improve the quality of service available to learners, course planners and faculty through this new functionality," said Senior Associate Dean Dr. Ajay Singh
BOSTON (PRWEB) March 26, 2019
CABEM Technologies to utilize their Competency and Credentialing Software to build a platform used to manage Continuing Medical Education programs. The product will be an all-in-one credential and course management platform with dashboards for learners, course directors and Harvard Medical School administrators, with an estimated user base of 30,000 to 50,000 globally. The software platform will allow clinicians earning CMEs to:

Explore and register for accredited courses through suggested offerings from Harvard Medical School's catalog of available CME activities.
Leverage a blended learning approach to choose course offerings that meet career needs and work schedules.
Automate the tracking and management of their CMEs as well as access comprehensive transcripts of their accredited activities.
In addition to benefiting the learners, the platform will benefit course directors and course administrators. Course directors who are planning an educational course or renewing an existing one will now have a central location to submit activity proposals and manage courses. Harvard Medical School administrators will have visibility into all users, courses, and activity proposals, including necessary reporting.
"We are delighted to improve the quality of service available to learners, course planners and faculty through this new functionality," said Senior Associate Dean Dr. Ajay Singh.
The cloud-based solution is a version of CABEM's Competency Manager product which enables small to large organizations to build competency models for their individuals as well as credential and train them across all disciplines and locations.
CABEM CEO Jay Fredkin said of the project, "Supporting Harvard Medical School towards their important goal of educating doctors and medical staff is a high value mission with a solid sense of purpose. We are honored to have this opportunity."
About CABEM Technologies, LLC
Founded in 2002, CABEM Technologies designs, builds, deploys, and maintains software applications and products for organizations that require sophisticated technology solutions. CABEM provides services to progressive nonprofit and for-profit organizations of all sizes, in a variety of industries including academia, testing, banking, identity theft, environmental, healthcare, and military.
Contacts for CABEM Technologies LLC: Alex Fredkin, Marketing Manager, at (617) 244-6609