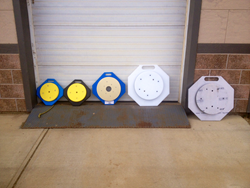 As an electrician myself, I knew what I needed to make my job, and the jobs of my colleagues, much easier and a more streamlined process.
Slave Lake, AB (PRWEB) August 27, 2014
The Canadian-based Tug-Wise—a company that offers cable reel holder solutions to electricians and other handy professionals—has announced the success of a device that can sustain up to 8,000 lbs. As the company grows and the product continues to see development, Tug-Wise will be seeking more ways to satisfy their customers.
Tug-Wise is a proprietary cable management system designed by Jim Emes, an electrician for over 30 years. When he discovered major flaws within the standard cable reel systems, he designed Tug-Wise to answer it. The solution is a durable, weather-resistant device that comes in several models to suit various jobs, and can now withstand up to 8,000 lbs. or more if a custom model is requested. The Tug-Wise cable management system allows 360-degree pulling and doesn't have to be moved manually and pointed in the direction of the pull. Designed to suit a one-man operation, it also has safety benefits and can be mounted to the bottom of a plastic or wooden reel to allow for simple pulls.
"We continue to see great success with Tug-Wise because we know people really understand the benefits it comes with," says Jim Emes, founder. "As an electrician myself, I knew what I needed to make my job and the jobs of my colleagues much easier and a more streamlined process."
Because of the long-term benefits provided by the cable reel holder system, clients can expect better value, too. Compared to traditional reel systems, Tug-Wise lasts longer, making it a lengthy investment. On the labor end, it requires just one person and allows for much quicker results, saving costly labor hours that tend to add up. For more information about Tug-Wise, visit: http://www.tug-wise.com.
About Tug-Wise: Created by founder and inventor Jim Emes, Tug-Wise operates a full service company that's the best in wire and cable management systems. Offering several different spool types, ranging from light to heavy weight, Tug-Wise has the variety and quality to equip the needs of any customer.
Related Search Phrases:
[Cable Reel Holder] [Cable Management System] [Tug-Wise Manufacturing Inc] [Breaking News] [Slave Lake News] [Wire Management System]
Related Hashtags:
#CableReelHolder #CableManagementSystem #Cable #Wires #Electricians #Electrical #TugWise #BreakingNews #SlaveLake #Alberta