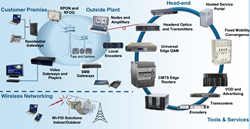 The Worlds Only Real-Time Online Cable Bandwidth Quoting Tool!
Los Angeles, California (PRWEB) July 02, 2015
Cable Bandwidth (http://cable.bandwidth.us.com) Internet was something people waited for, once upon a time. Prior to using fiber optics and the existing television infrastructure, Los Angeles had to rely on connections that went through telephone wires. Cable changed all of that and thankfully now provides for superior services for California counties.
Cable Bandwidth Trends
In order for the Bandwidth Trends to materialize, the available Equipment MUST be able to support the predicted Bandwidths at acceptable cost levels.
Bandwidth growth on Service Provider networks has been growing exponentially for ~30 years

The Downstream growth rate has been roughly 1.5x per year…Web-Surfing was the driver of growth in 2000… P2P was the driver of growth in 2008… IP Video is the driver of growth today
The growth is expected to continue for many years into the future as new "yet-to-be-invented" applications are created
Network equipment providers are capitalizing on Moore's Law to provide the capacities that will support this growth
The Internet will continue to grow to support the newly-evolving Applications & the higher Cable Bandwidth (http://1gbcable.com/) Goals (ex: "1 Gbps to every home") that will dominate the markets of the future
The Threat of Internet Video
Why are ISPs so interested in data caps? One possible answer is suggested by Sonic.net's Dane Jasper: TV.
Most of the United States' leading ISPs (Comcast, Time Warner, Verizon, AT&T, Charter, Cablevision) also offer television and voice services. These so-called "triple plays" bundle phone, television, and Internet together onto a single bill. While all three services generate significant revenue for these companies, the video portion is the most expensive to operate, thanks in part to the myriad of regulations surrounding the paid-television industry but also the complex licensing involved in carrying cable channel packages. That's why, in a typical "triple play" bill, cable television service is often the greatest portion of the fee (depending on channel package).
The problem, of course, is that consumers are increasingly turning to the Internet for their video entrainment, opting for so-called "Over The Top" (OTT) solutions like Netflix, Amazon Video-on-Demand, and Hulu over broadcast television, cable service, and television operators' video-on-demand services. Increasingly, consumers are considering these companies to be broadband providers, rather than television providers, so they're tending to cancel cable services while signing up for broadband.
Solveforce provides their solution.
About Solveforce Cable Bandwidth
Cable.bandwidth.us.com is managed by SolveForce, an Cable Bandwidth (http://transatlanticfiberopticcable.com/) Agency that offers its consulting services in the Los Angeles, California Region and has been providing business solutions since 2004. They are recognized all over the globe as an Cable Bandwidth consulting agency that offers National advisory and auditing services for the telecommunications and Internet industry. Founded by Ron Legarski, this master agency has accomplished many awards and achievements. With high quality solutions to offer, the company's future plans are to integrate even more cities and companies in their coverage areas and remain the leader in the telecom & internet solutions industry throughout the Region.
SolveForce.com, LLC can be reached at 888-765-8301 via toll free or visit one of their real-time quoting websites at http://www.solveforce.com/cable-internet.