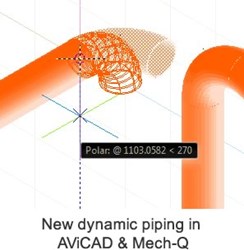 This addition will be indispensable for 3-D mechanical detailing.
Bend, OR (PRWEB) October 31, 2013
CADavenue.com, a sister company of ASVIC Australia, announced today the release of a new piping tool that integrates inside an engineering and pipeline suite called Mech-Q and allows CAD users to dynamically rotate various fittings into place at any angle.
The Mech-Q Suite and Piping Tools are available for AutoCAD and IntelliCAD as an add-on. Optionally the Suite can also be purchase as a part of a 2D/3D CAD stand-alone package called AViCAD.
Victor Abela says "For clarity and ease of use, pipe fittings now appear immediately after the 'Point Direction' pick is made. When the fitting comes in at this point the user will be able to see the fitting while picking a new direction. We feel this addition will be indispensable for 3-D mechanical detailing."
Additionally the CAD company reports that piping designers can now create 3D models without having to concern themselves with the setting the appropriate 3D Coordinates beforehand.
"One of the tedious parts about 3D drawing is the fact that you need to constantly change the XY plane. Thankfully the new 3D pipe fitting tool we provide handles this automatically for you," Victor explains.
Additionally existing pipe fittings can also be rotated later if needed using the utility. Optionally if a user requires to automatically align the 3D coordinates and angle of the pipe, a command is provided for this as well.
About CADavenue
CADAvenue offers affordable mechanical and engineering software for AutoCAD®, IntelliCAD and AViCAD. Various software disciplines include Piping, Ducting, Steel Beams and Mechanical tools. Many of CADavenue's products (including Plate 'n' Sheet) offer a 30 day trial before purchasing.
CADavenue is located in Bend, Oregon and is open for tech support and sales questions between 8-5 M-F PST.
Erik Zetterberg
Tel: (888) 271-7121
sales(at)cadavenue(dot)com
In Australia/Int'l contact: sales(at)asic(dot)com(dot)au