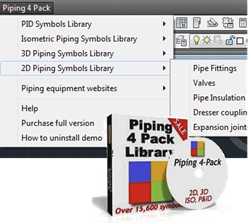 Block collection is very straightforward to install and implement in any office.
Bend, OR (PRWEB) December 23, 2013
The 2D and 3D Piping Symbols Library is designed for all piping layouts and schematics including detailing and 3D modeling. All users will receive a complimentary 2nd license of the Piping Symbols Library at the time of purchasing the AutoCAD® add-on.
The Piping Package contains four main modules which do the following:
-- Inserts 2D Piping Symbols
-- Loads 3D Piping Symbol
--Creates P&ID Drawings from Blocks
-- Inserts Isometric Piping Symbols
SimpleCAD Director, Erik Z explains: "This AutoCAD® block collection is very straightforward to install and implement in any office. It's a library even entry level
CAD users can use. Little training is required as you simply pick and choose from a drop down menu within AutoCAD®."
The add-on which is designed for both AutoCAD® and AutoCAD LT®, which inserts various custom libraries using menus and a thumbnail system, designed to maximize workflow and drafting productivity.
The library supports AutoCAD® 2000-2014 and the LT version of AutoCAD®. SimpleCAD also offers free support needed to get started. Users can start right away as there is no project setup or special training required.
Erik Z continues: "The symbol libraries offer everything you'll need to be productive at both 2D and 3D piping. This is truly a remarkable package and must-have for any piping consultant or engineer."
A demo is available at SimpleCAD.com by calling 877-933-3929. Remote help and phone support is provided. No credit card info is needed for trial.
About SimpleCAD:
Since 1983 SimpleCAD been actively serving the CAD industry. Since this time they have offer various CAD solutions, symbol and hatch libraries for various industries. Samples of their software and block libraries are always available upon request.
CADavenue is located in Bend, Oregon USA and is open for tech support and sales questions between 8-5 M-F PST.
Tel: (877) 933-3929, mail(at)simplecad(dot)com