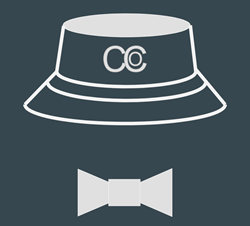 These stories are incredibly powerful and inspiring, so we wanted to do our part in giving this special community a voice," -Caddyshack to Corner Office Founder, Kai Sato
LOS ANGELES (PRWEB) February 11, 2020
When Ray Dalio was 12 years old, he began caddying at a golf club filled with stockbrokers. Making $6 per bag, he used his earnings to purchase his first stock, thereby launching his investment career. Today, he is the founder of the world's largest hedge fund, a bestselling author, and one of Time's most influential people. But Dalio isn't the only person who got his start as a caddy.
From Johnny Carson to Carson Daly, there is a long list of accomplished people who once worked as "loopers." Former U.S. President Bill Clinton and accomplished actress, Elizabeth Reaser, even worked as caddies. Given the people that caddies get to meet, the extended hours they spend with their golfers, and the sincere bonds that they can forge with them, it's no surprise that caddying has set many on a good path in life.
What has been missing is a centralized location to house the hundreds if not thousands of truly inspiring success stories. And that is precisely what Caddyshack to Corner Office has been created to do. It aggregates and distributes stories about former caddies who have gone onto enjoy distinguished careers so that younger generations of caddies can see the rich tradition of which they are a part.
"Without knowing it at the time, caddying in college was one of the most profound experiences of my life, and it dramatically altered the trajectory of my career. Every single accomplished person that I've met who grew up caddying expresses tremendous pride in having done so and also attests that it played a key role in his or her life. These stories are incredibly powerful and inspiring, so we wanted to do our part in giving this special community a voice," said Caddyshack to Corner Office Founder, Kai Sato.
Each month, Caddyshack to Corner Office will introduce at least one new "Official Caddying Story," detailed in a one-on-one interview. Along the way, the website will track each golf course where the notable, former caddies once worked. Most importantly, the platform will highlight and celebrate nonprofit organizations that award scholarships to young caddies, like the Evans Scholars Foundation, the Ouimet Scholarship Foundation, and the Westchester Golf Association Caddie Scholarship Fund. Readers may also nominate former caddies who should be interviewed.
"Working as a caddy literally changed my life. It not only introduced me to the concept of a music executive but also opened the doors for me to get into the industry. For a young person trying to find a career path and willing to work extremely hard, there probably isn't a better job," said Neil Jacobson, the founder of Hallwood Media Group and former president of Geffen Records.
Neil Jacobson is also a strategic advisor to Caddyshack to Corner Office and the subject of its debut story. To read his Official Caddying Story, visit http://www.caddyshacktocorneroffice.com.