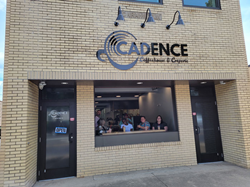 "I started with the book. It seemed worth it to make the small investment to check out the product and philosophy ... Don't think we would have pulled it off without Crimson Cup." - Matt Kresic, CEO, Cadence Care Network
COLUMBUS, Ohio (PRWEB) June 23, 2022
At the new Cadence Coffee House & Creperie in Niles, Ohio, guests enjoy exceptional coffee, teas, crepes, sandwiches, salads and more in a relaxing atmosphere.
Their purchases also fund programs provided by Cadence Care Network, a nonprofit organization providing behavioral health services and foster care to over 2,500 vulnerable children and adolescents in Northeast Ohio.
Cadence Care Network CEO Matt Kresic and Cadence Coffee House & Creperie Manager Tania Romero learned how to open a coffee shop through the 7 Steps to Success coffee shop startup program of Crimson Cup Coffee & Tea.
"We're excited to welcome Matt, Tania and their team to the Crimson Cup community," said Founder and President Greg Ubert. "We look forward to helping their business grow as it serves Northeastern Ohio youth and the broader community."
Kresic said one goal of the new enterprise is to provide life skills and job training to the young people it serves.
"We want to give them an opportunity to develop job skills by working here, putting them on a path to a career," he said.
After running Cadence Care Network for 29 years as a social worker and administrator, Kresic sought to set up a social enterprise for vulnerable area youth that would provide an outlet for their creativity while giving them work experience.
After purchasing a two-story yellow brick building that had once been a beverage company, Kresic considered a variety of social enterprises, finally settling on the coffee shop and creperie.
"I love coffee shop culture," he said. "I used to go to a little hippy joint up in Kent when I was 17 and loved the accepting culture of coffee houses."
A Google search brought him to award-winning Columbus coffee roaster Crimson Cup Coffee & Tea.
Through the 7 Steps program, Crimson Cup has helped over 300 entrepreneurs in 30 states start unique coffee shops in their local communities. In 2021, 19 new independent shops opened through the program. Cadence is one of at least 18 shops planned for 2022.
The program is based on Ubert's book, Seven Steps to Success: A Common-Sense Guide to Succeed in Specialty Coffee.
"I started with the book," Kresic recalled. "It seemed worth it to make the small investment to check out the product and philosophy."
Of the Seven Steps, Kresic said he found Step Two: Focus on Efficiency Of Equipment Layout, Step Five: Focus on Training and Step Four: Focus on The Marketing especially helpful.
After reading the book, he talked to 7 Steps Sales Leader Scott Fullerton and visited Corner Cup Coffee House in Stow, Ohio, which was then owned by Customer Growth Rep Heather Ciranna.
From there, Crimson Cup's 7 Steps to Success coffee shop startup consultants guided Kresic, Romero and their team through every step, from writing a solid coffee shop business plan to laying out the shop, sourcing equipment, training baristas and more.
The week before the restaurant's June 10 soft opening, 7 Steps Project Manager and Trainer Steve Bayless traveled to Niles to train the new baristas and managers.
"This week with Steve was fantastic," Kresic said. "Don't think we would have pulled it off without Crimson Cup."
"Tania has barista experience, but she's learned quite a bit. It's all good stuff."
A Crimson Cup Customer Growth Manager will return to Niles to support the new café's July 19 grand opening.
Proceeds from the cafe support the mission of Cadence Care Network, with at least 10 students working and making coffee, crepes and other food items.
"We're exposing kids to great coffee," Kresic said. "We'll also be holding more events in the space to highlight mental health issues in the community!"
The coffee, roasted by Crimson Cup, has won a warm welcome from local coffee lovers. The roaster's exceptional craft and specialty have earned top honors at the Good Food Awards, Golden Bean North America, Roast magazine's Roaster of the Year and other competitions.
"Awesome experience!!! Coffee was outstanding. Full custom roasted beans," wrote one Facebook reviewer. "Great cause and couldn't be a more positive work environment for the young adults working at the Coffee Shop/Creperie."
Kresic invited everyone in Niles and Northeast Ohio to visit Cadence Coffee House & Creperie. The shop is in historic downtown Niles, directly across the street from the President McKinley Memorial Library, at 31 North Main Street.
"We're ready! Come on in and see what we do with the kids we work with," he said.
To keep up with events and announcements, including new menu items and the July 19 grand opening celebrations, follow the store's Facebook Page.
About Crimson Cup Coffee & Tea
Founded in 1991, Crimson Cup is at the forefront of the coffee industry. Its attentive roasting, startup support and global partnerships are consciously designed for the greater good of communities around the world. Among other national recognitions, the company has earned 2020 and 2017 Good Food Awards, the 2019 Golden Bean Champion for Small Franchise/Chain Roaster and Roast magazine's 2016 Macro Roaster of the Year.
Crimson Cup travels the world searching for the perfect cup – driven by meaningful relationships, honesty and a shared vision for the future. Its Friend2Farmer initiatives foster respect and decency through mutually beneficial collaboration across local and global communities.
Through its 7 Steps to Success coffee shop startup program, the company teaches entrepreneurs how to open and run independent coffee houses in their local communities. By developing a coffee shop business plan, entrepreneurs gain insight into how much it costs to open a coffee shop.
Crimson Cup coffee is available through over 350 independent coffee houses, grocers, college and universities, restaurants and food service operations across 30 states, Guam and Bangladesh. The company also owns several Crimson Cup Coffee Shops and a new CRIMSON retail flagship store. To learn more, visit crimsoncup.com, or follow the company on Facebook and Instagram.