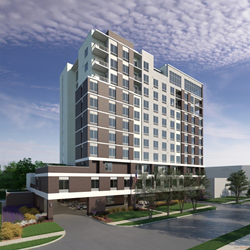 This project will be a stand-out in our expanding portfolio.
DALLAS (PRWEB) November 10, 2021
Cadence McShane Construction Company is pleased to announce that Anthology Senior Living has selected the firm to complete the new 11-story assisted living community, Anthology of Highland Park, located in the Highland Park neighborhood of Dallas. Designed by PRDG, the new 121-unit high-rise will be the first of its kind in the area.
The 130,000-square-foot development will incorporate 24 memory care units occupying the second floor, and 97 assisted living units on the remaining floors. The assisted living units will include eight studios, 53 one-bedroom, and 36 spacious two-bedroom/two-bath configurations. Amenities will include a salon, a theater, a fitness center, a cozy library and pub with a fireplace, and top floor dining areas with unobstructed views of Dallas. Outside, residents are provided with shaded, elevated terraces on floors two, three, and eleven.
Construction will also include below-grade parking and ground-level parking, providing 58 spaces for full-time residents. Additionally, the building will be supported by a back-up generator in case of power failure.
The 28,700-square-foot site sits on a zero-lot line in a residential neighborhood. Because of these tight quarters, Cadence McShane will utilize a luffing crane, ensuring the radius of the swing does not exceed the building footprint.
Cadence McShane is currently amid construction on two other senior living developments with Anthology Senior Living: a 130-unit development in Austin and a renovations and additions project in Houston.
"Not only are we excited to continue partnering with Anthology Senior Living, but we are excited to grow our multifamily presence in North Texas," remarked Will Hodges, President of Cadence McShane. "This project will be a stand-out in our expanding portfolio."
The project is slated for completion in June of 2023.
About Cadence McShane Construction Company
Founded in 1985, Cadence McShane Construction Company (CMC) has grown to become one of the most trusted and well-established contractors in the State of Texas. Specializing in the Education, Multifamily, Senior Living, Commercial, and Industrial market sectors, we offer design-build, and construction management services from our offices in Austin, Dallas, Houston, and San Antonio. CMC is part of The McShane Companies and, along-side our sister company McShane Construction, is recognized as one of the largest general contractors in the United States, with Top-10 rankings across the Multifamily, Senior Living and Education sectors. For additional information, visit the firm's website at cadencemcshane.com.
About Anthology Senior Living
Anthology Senior Living is a vertically integrated owner, developer, and operator of CA Venture's senior living platform. Their full portfolio encompasses both Anthology owned and operated, and 3rd party operated communities offering senior living options for independent living, assisted living, and memory care across the United States, with 42 locations in 16 different states. Anthology Senior Living boasts over 1,900 residents and 1,855 team members across their portfolio and is headquartered in Denver, CO. The individual communities foster a culture of inclusion, where seniors are encouraged to continue their life story in a beautiful, meaningful way. For more information about Anthology Senior Living, visit http://www.AnthologySeniorLiving.com.