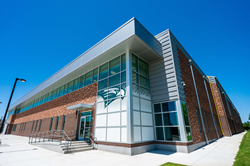 "Bringing to life Richardson ISD's large vision of providing four multipurpose centers to their high schools is something we are happy we could deliver. Knowing that so many students will be able to fully utilize the extensive amenities of these brand new facilities brings us a lot of joy."
DALLAS (PRWEB) May 12, 2020
Cadence McShane Construction Company is excited to announce the completion of four multipurpose activity centers in Richardson and Dallas, Texas for Richardson Independent School District (Richardson ISD).
Designed by HKS, the four multi-purpose activity centers are located at L.V. Berkner, Lake Highlands, Richardson, and J.J. Pearce High School campuses.
"Bringing to life Richardson ISD's large vision of providing four multipurpose centers to their high schools is something we are happy we could deliver," remarked Will Hodges, President of Cadence McShane. "Knowing that so many students will be able to fully utilize the extensive amenities of these brand new facilities brings us a lot of joy."
The new construction of Richardson ISD's four multipurpose activity centers were part of Richardson ISD's 2016 bond program. The 2016 bond expenditures cover maintenance, new construction and enrichments for the growing Richardson ISD.
The multipurpose centers each include indoor practice fields, a training area, a weight room, meeting rooms, and offices for coaches and staff. In addition, Cadence remodeled existing wrestling and weight rooms.
Cadence McShane is a long-time partner with RISD, having consistently worked with the district for 20 years on 19 different projects.
About Cadence McShane Construction Company
Cadence McShane Construction Company is the builder of choice in the state of Texas and its surrounding region, specializing in the Education, Multifamily, Senior Living, Commercial, and Industrial market sectors. As a highly-experienced provider of general construction, design-build, and construction management, Cadence McShane deploys a culture of relentless service with an entrepreneurial spirit that originates from the inside of each individual and helps constantly deliver reliable results of excellence. Since 1985, our dedication and commitment to this philosophy have built a solid foundation of expertise for everything we do. For additional information, visit the firm's website at http://www.cadencemcshane.com.