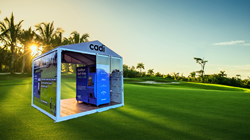 The golf industry is seeking innovation, and at Cadi, our goal is to create the best customer experience in the industry.
COSTA MESA, Calif. (PRWEB) January 05, 2021
Cadi is combining autonomous technology with e-commerce to deliver golfers the ultimate omnichannel shopping experience.
Cadi's innovative kiosk enables golfers to engage in a "try-before-you-buy" on-course product demo in the most convenient location (on the course!), thereby creating an entirely new retail experience. Cadi's omnichannel platform allows customers to shop from any device and visit local courses to demo the latest golf clubs.
Cadi uses Big Data and Artificial Intelligence to curate product selection and create a personalized experience for each customer. Founder and CEO, Tyler Gottstein states, "Demoing golf clubs should be about you—on your time, at your location, and with your friends. Cadi gives you the freedom to try before you buy and the confidence to know your game just improved."
Cadi plans on strategically partnering with investors to help scale manufacturing and distribution of the Cadi Kiosk to golfers' most desired location and the industry's forgotten retail channel, golf courses. In the modern retail world automation is no longer a choice, it is a necessity.
Cadi currently has signed letters of intent with 63 golf courses, unlocking access to over 250,000 golfers in America. Cadi is also pursuing opportunities at entertainment venues, driving ranges, and new-age shopping malls. With the popularity of venues such as TopGolf, golf is seeing record rounds of play and increased participation at all levels.
Cadi's team of leaders is experienced in developing and implementing consumer technologies at scale. CEO, Tyler Gottstein, and Co-Founder, Matt Ahrens, each bring valuable experience in logistics, finance, automation, and entrepreneurship.
"The golf industry is seeking innovation, and at Cadi, our goal is to create the best customer experience in the industry," states COO, Matt Ahrens.
Cadi's advisors include David Felker, founding VP of R&D for Callaway Golf Ball Company, as well as Carole McCluskey, former CTO of Outerwall (Coinstar, Redbox, EcoATM). Cadi's partners include Franz Keuhnrich, Former VP of Engineering at Redbox.
Cadi's retail technology platform has proven market fit and will lead the transition to autonomous retail in the $126bn sporting goods market. Cadi has sold products to over 6,000 customers and has surpassed $1M in gross sales over the past 18 months while also doubling sales from 2019 to 2020.
Cadi is seeking to become the clear leader in the market by seamlessly integrating physical and virtual shopping through their patent-pending technology and first-to-market strategy. Cadi's dual revenue stream includes product sales and a subscription model.
Interested in learning how Cadi is shaping the future of golf retail? Investors can check out Cadi's offering on StartEngine https://www.startengine.com/cadi and can participate for as little as $250.
Contact:
Tyler Gottstein
tyler(at)cadikiosk(dot)com
949-662-4748
About Cadi
Cadi is on a mission to change the way people shop for golf products. Cadi is a retail automation company building technology that connects golfers with products they love, and the fast, custom experience they deserve. Cadi's platform gives golfers the freedom to demo, compare, and purchase products at their convenience. Cadi's technology is game-changing. It allows for a one of a kind experience only made possible with Cadi's patent pending-technology.