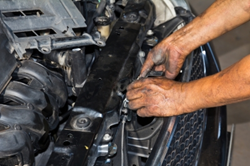 Our inventory of 272 horsepower ATS used engines is now protected for a much longer period due to our efforts of using better suppliers to distribute consumer orders
San Francisco, CA (PRWEB) May 26, 2015
General Motors introduced the ATS luxury sedan vehicle from its Cadillac subsidiary in the year 2013 in the United States. Because this vehicle now comes with a turbocharged motor, the PreownedEngines.com company is now providing a 24-month warranty for all used Cadillac ATS 2.0-liter engines on sale at http://preownedengines.com/used-cadillac-ats-2-0-engine.
The units that are now covered under an extended warranty period are RWD models that use 6 and 8-speed automatic transmission. The warranty extension is part of a new consumer package that includes an incentive for no charge freight in some parts of the country. The full warranty period is now explained before checkout is complete at the POE website.
"Our inventory of 272 horsepower ATS used engines is now protected for a much longer period due to our efforts of using better suppliers to distribute consumer orders," said a Preowned Engines source.
The offering of a better and more focused parts warranty to cover the originally installed parts by General Motors is one example of new programs in effect this year at the Preowned Engines company. Consumers do not have to pay for the revised warranty at the time of purchase because it is now included at no cost.
"The only thing that a person who buys our used 2.0-liter ATS motors will have to do is activate the warranty by using a link on our homepage," said the source.
The ordering system at the POE website has been changed to include the new warranty features for customers. A person who has questions about how many parts are covered and what to do if a problem happens after an order is placed can now call customer support at 1-866-320-1065 from anywhere in the U.S.
About PreownedEngines.com
The PreownedEngines.com company supplies the public with a secure resource to buy vehicle motors for under the established retail price. The company has teams of professionals who acquire motor blocks and secure partnerships with third-party suppliers daily. The PreownedEngines.com company supports the continued distribution of warranty coverage for its retailed products in the USA.