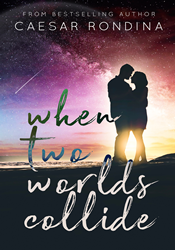 "This is not another love story. It's the right love story. - I.B.R.
NORTH HAVEN, Conn. (PRWEB) September 12, 2019
When Two Worlds Collide is a love story. When we asked Caesar Rondina what was so special about this book, Caesar Rondina replied, "Every love story I have read has many villains and bad guys. So much time is spent on antagonists, the theme of the story gets lost. In When Two Worlds Collide, there are no villains or bad guys. The story revolves around the true-to-life obstacles that two young people must face. My readers will become attached to Tony and Jill. Many readers have experienced many of these obstacles themselves. That is what makes this fictional book seem so real. It answers the question can true love transcend time. distance and space?"
We asked Caesar Rondina is this book based on a true story? Caesar Rondina replied, "As a retired firefighter and paramedic for over thirty years, I have witnessed many events that could become stories. This is not based on one true story. However, it is based on a combination of many true stories combined. That is why this book is realistic, yet fiction."
Jill and Tony are from two different worlds. Tony is from the other side of the tracks in New Jersey. He did not grow up with much, and his parents had to struggle. On the other hand, Jill came from a wealthy family in California. Jill was suffering from a broken heart, and Tony was a shy young man. they attended the same college. Tony could never gain the courage to approach Jill. After some time, they would meet in the most interesting way. The love story begins.
When we asked Caesar Rondina what formats the book was available in and where it can be purchased, Caesar Rondina replied, "The book is available in Softcover, Hard Cover, E=Book and AudioBook formats. The book can be found on all online book outlets, Audible, and AuthorHouse Bookstore.