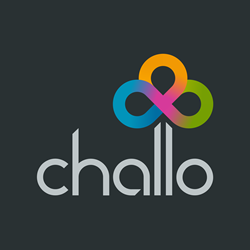 Businesses have a social responsibility to give back to the community, and that's critically important during emergencies
NEW YORK (PRWEB) March 16, 2020
As the spread of COVID-19 drives the cancellation of classes, entertainment and business events, CafeX Communications® today announced that Challo, the company's flagship cloud application for enterprise collaboration, is now free for organizations to use until this summer.
CafeX is offering complimentary use of Challo from today through July 1, 2020 in consideration of the following business requirements.
1. Remote work -- Remote working has already become mandatory for some. While working from home is common, many businesses aren't fully prepared for widespread enablement across the workforce. Simple but powerful tools are needed to support internal and company-to-company communication.
2. Business continuity -- Business doesn't stop, whether it is engaging with clients, partners, teaching, learning, advising, recruiting or consulting. Companies need to ensure they have tools in place to meet, collaborate, access and securely share content so that business continues with minimal interruption.
3. Multi-company work -- Security, compliance and platform-agnostic integrations are more important than ever as companies continue to work with external parties online rather than in person. Preserving an audit trail of activities, approvals and communications is important to ensure compliance with company policies, especially for engagements that extend beyond company boundaries.
"Businesses have a social responsibility to give back to the community, and that's critically important during emergencies," said Rami Musallam, chief executive officer for CafeX. "With this in mind, CafeX is providing free use of Challo along with resources and support for those navigating this evolving crisis."
Beginning today, CafeX will:
1. Offer companies use of Challo for free until July 1, 2020 to enable employees to work from home with minimal disruption. Workers can sign up at https://www.cafex.com.
2. Schedule free informational sessions and on-demand resources so anyone can learn how to use Challo at their convenience. The first information session and webinar will be on March 19, 2020. Register at https://challo.to/wtx.
Challo: a cloud application that transforms enterprise collaboration
CafeX recently introduced Challo, which helps people -- whether from the same or different companies – work together in ways that today's collaboration tools can't easily support, if at all.
Challo is based on the concept of online workspaces: persistent virtual rooms that bring together distributed content and people into one location. Like other leading tools, Challo enables users to chat with each other, meet in HD video, share files and review information to move business forward.
However, unlike other tools, which focus primarily on internal teams, Challo provides a state-of-the-art security and compliance model to support both company-to-company and in-house interactions. Featuring the latest advancements in UI design, Challo aims to be the most secure, easiest to use, all-in-one business collaboration platform in the market, empowering enterprises to work more effectively with internal and external stakeholders.
To learn more about CafeX and how to use Challo for free, please visit https://www.cafex.com.
About CafeX Communications
Transcending company boundaries, Challo from CafeX provides secure, simple, all-in-one business collaboration solutions that function as well outside a company's walls as within. CafeX was built and is run by veteran technologists who have innovated in telecom, VoIP, WebRTC and online collaboration for some of the world's largest communications brands for over two decades. The company serves Fortune Global 500 clients in financial services, healthcare and other categories.
CafeX Communications and Challo from CafeX are registered trademarks of CafeX Communications, Inc. All other trademarks are the property of their respective owners. To learn more about CafeX and Challo, please visit https://www.cafex.com. Challo is also available on the App Store.