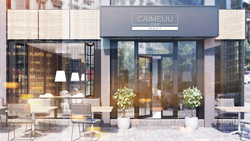 Our brand was built on our ability to break through barriers and provide tailored service for the ever-growing Chinese market. Caimeiju Realty's partnership with Side ensures a clear competitive advantage in addressing this very large and often overlooked market
SAN FRANCISCO (PRWEB) October 28, 2020
CAIMEIJU 采美居, the premier Chinese luxury real estate marketing agency, today announced the debut of Caimeiju Realty in partnership with brokerage platform Side. A first of its kind for the real estate industry, Caimeiju Realty will serve the unique needs of Chinese buyers, sellers, and agents by offering tailored, superior service coupled with Side's cutting-edge brokerage platform. With the launch of this new brokerage division, Caimeiju Realty will become the number one home buying and selling solution for Chinese residents in California, home to the largest communities of Chinese residents in America.
In partnership with Side, Caimeiju Realty aims to improve the real estate experience for its agents and clients alike. Armed with a decade of experience navigating the nuances of the complex Chinese market, and coupled with Side's advanced marketing, technology, administrative, and legal services, agents will have the tools and support to thrive in California's highly competitive growing Chinese communities. Clients will receive the representation expected from top agents plus access to an unparalleled network of Chinese and Western buyers and sellers.
"Partnering with Side has allowed Caimeiju Realty to embark on this exciting new chapter," said Jeff Toth, founder of Caimeiju Realty. "Our brand was built on our ability to break through barriers and provide tailored service for the ever-growing Chinese market. Emerging obstacles between the United States and China are creating complexities that are challenging for most brokerages to navigate; nonetheless, domestic transactions between buyers and sellers in Chinese communities remain at an all-time high. Caimeiju Realty's partnership with Side ensures a clear competitive advantage in addressing this very large and often overlooked market."
Throughout the last decade, CAIMEIJU 采美居 has built a reputation for its ability to effectively market multimillion-dollar properties overseas to an elusive Chinese market using innovative technology and inventive solutions. In this new chapter, Caimeiju Realty will solidify its position at the forefront of an ever-evolving, cross-cultural real estate market.
"We are thrilled that CAIMEIJU 采美居 has partnered with Side to launch Caimeiju Realty to accelerate the growth of their business," said Guy Gal, Side CEO. "Side is proud to play a part in simplifying the homebuying and home selling process for the Asian American community, and leveling the playing field for a traditionally underserved segment of real estate professionals."
Side is led by experienced industry professionals and world-class engineers who develop technology designed to improve agent productivity and enhance the client experience. Based on its belief that homeownership is a fundamental human right, Side is on a mission to improve the public good by providing top-performing real estate agents, teams and independent brokerages with the best system, support, service, experience and results.
To view a Chinese-translated version of the release, please visit here.
About Caimeiju, Inc.
Since 2009, Caimeiju has provided customized luxury marketing solutions for top Brokers, Realtors, and Developers from around the world to reach the fast-growing Chinese affluent consumers and investors. For more information, visit http://www.caimeijurealty.com.
About Side
Side transforms high-performing agents, teams and independent brokerages into successful businesses and boutique brands that are 100% agent-owned. Side exclusively partners with the best agents, empowering them with proprietary technology and a premier support team so they can be more productive, grow their business and focus on serving their clients. Side is headquartered in San Francisco. For more information, visit http://www.sideinc.com.
Media Contacts
Vanessa Villatoro | Brandon Muratalla
Murphy O'Brien
sidepr@murphyobrien.com