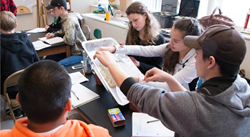 "We are proud to represent the traditional public school," said Brian Stephens, CEO of Caissa.
MEMPHIS, Tenn. (PRWEB) February 12, 2020
Caissa Public Strategy ("Caissa") has officially added research and data reporting to its public-school service line. Over the last year four years, Caissa has used its roots in political campaigns to work innovatively with traditional public schools in the ever-growing competition for students through recruitment and retention campaigns.
Now, Caissa is expanding their services and offering data surveys for public school districts to use as a baseline against national data. Public school districts are able to utilize these reports to work strategically in their recruitment and retention efforts.
"We are proud to represent the traditional public school," said Brian Stephens, CEO of Caissa. "The districts we work with are doing such an incredible job, and these new reports will only increase their effectiveness in the competition for students."
Caissa, a 12-year public strategy firm, executed its first student recruitment and retention campaign four years ago with Shelby County Schools ("SCS") in Memphis, Tenn. After working with SCS for two years, the district saw a net increase of students for the first time in over a decade.
"After working with SCS, we knew this was a service that districts could utilize all over the country," said Adrian Bond, Director of Community Engagement at Caissa. "We have yet to find another company doing what we are doing for public schools."
For the last few years, Caissa has been running student recruitment and retention campaigns all across the country. With the research component added to their services, Caissa now offers the following options for public school districts:

Recruitment: Campaign to recruit new students to the district.
Retention: Campaign to retain current students that may be susceptible to leaving the district.
Training: Sessions ranging from customer service to dealing with the media all focused on ensuring the district is prepared to compete in today's landscape.
Research: Surveys and reports to understand parent perceptions and trends within the district.
For more information visit werecruitstudents.com.
About Caissa Public Strategy
Caissa Public Strategy, LLC is a strategic communications firm with its headquarters in Memphis, TN and an office in Washington, DC. We serve a broad range of corporations, school districts, small businesses, governments, individuals and nonprofits across the county. Since its founding in 2008, Caissa has represented over 400 clients in over 12 different states. Founding partners, Brian J. Stephens and Paige Walkup, converted the Stephens Group Law Firm, which specialized in corporate affairs, business, and land use law, into Caissa Public Strategy to ensure they had all the tools necessary to effectively represent their clients. For every challenge we take on, we know how to devise the most strategic steps and communications to move you to a win.