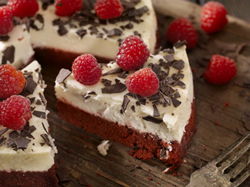 For a Cake Club that really 'takes the cake', you won't find a provider better than Flying Noodle.
OVERLAND PARK, Kan. (PRWEB) December 09, 2020
TopConsumerReviews.com recently gave its first-place ranking to Flying Noodle, a subscription-based Cake Club.
Who doesn't love cake? From everyday treats to once-in-a lifetime occasions like weddings and bat mitzvahs, cake is often a part of our celebrations. And, while popular reality TV shows like Nailed It and The Great British Bake-Off have gotten more people into their kitchens to try their hand at baking an amazing cake, everyone knows that the most delectable desserts are best left to the professionals! What better way to get the world's best treats than through a monthly Cake Club delivery? There are a number of subscription plans to choose from, typically with options for monthly or quarterly deliveries for up to a year, whether given as a gift or for one's own delight.
"For more than 25 years, Flying Noodle has delivered gourmet Italian products to food-lovers nationwide, and their Cake Club is sure to please even the choosiest dessert devotees," according to Brian Dolezal of TopConsumerReviews.com, LLC. "Each monthly delivery is a specialty cake that serves 8-10, in flavors ranging from Coffee Crumble to Lemon-Raspberry, made by independent bakeries from around the country. Flying Noodle cakes also come with a fun newsletter called 'Let Them Eat Cake' that describes the origin of each dessert, offers interesting facts about cake, and much more. All Cake Club shipments are backed by a 100% satisfaction guarantee - but if Flying Noodle's customer reviews are any indication, you're not likely to ever need a refund. People say that the cakes they received were worlds beyond anything available at their local supermarkets and bakeries. For a Cake Club that really 'takes the cake', you won't find a provider better than Flying Noodle. We're happy to give them our highest rating in 2020."
To find out more about Flying Noodle and other Cake Club options, including reviews and comparison rankings, please visit the Cake Clubs category of TopConsumerReviews.com at https://www.topconsumerreviews.com/best-cake-clubs/.
About Flying Noodle
Flying Noodle has provided Italian gourmet gifts online since 1995. From pastas and sauces to oils and sweets, the company loves discovering new and exciting gourmet Italian foods and specialty producers - and sharing them with their thousands of loyal customers. Flying Noodle offers gift baskets, gourmet combos, and sensational monthly gift clubs, all backed by a 100% satisfaction guarantee - whether they come from Milan or Hoboken, Sicily or San Francisco.
About TopConsumerReviews.com
TopConsumerReviews.com, LLC is a leading provider of reviews and rankings for thousands of consumer products and services. From Cake Clubs to Dessert Clubs and Chocolate Stores, TopConsumerReviews.com delivers in-depth product evaluations in order to make purchasing decisions easier.